Learn All About The Information Found On the Back of Pennzoil Motor Oil Bottles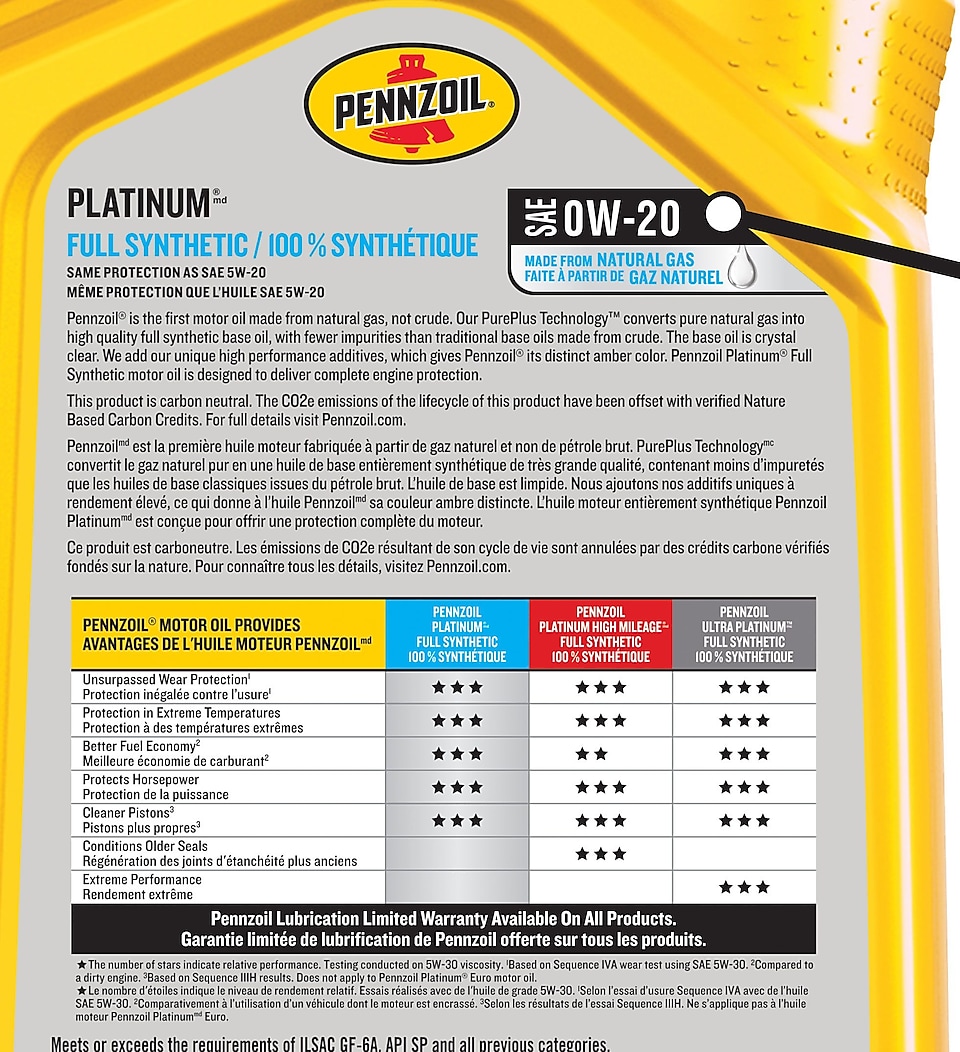 If you are seeking to purchase Pennzoil for your vehicle's next DIY motor oil change, the familiar yellow Pennzoil bottle is easy to locate! You'll find the viscosity and oil type are clearly marked on the front of the bottle and if you turn the bottle around, there is even more detailed information available to you. This is useful for many reasons, in particular if you are uncertain about which Pennzoil Full Synthetic motor oil is correct for your vehicle. Let's walk through this detail together.

Since many modern engines require low viscosity motor oil and SAE 0W-20 becoming more commonly called for by many vehicle manufacturers, we'll take a look at a label from a bottle of Pennzoil Platinum Full Synthetic 0W-20 motor oil. Pennzoil Platinum, Pennzoil Ultra Platinum, and Pennzoil Platinum High Mileage, all have an SAE 0W-20 viscosity motor oil. Each of these full synthetic 0W-20 oils is now Carbon Neutral1. Pennzoil Carbon Neutral lubricants allows motorists to choose a sustainable product without having to compromise on the performance and protection that they expect from Pennzoil.

The first thing you will likely notice on the back label is the viscosity grade at the top right. For an SAE 0W-20 full synthetic motor oil, it is noted that it will provide the same protection as an SAE 5W-20 oil and that it is made with natural gas. Pennzoil Platinum Full Synthetic motor oils are made with natural gas, not crude so its base oil is 99.5% free of engine clogging impurities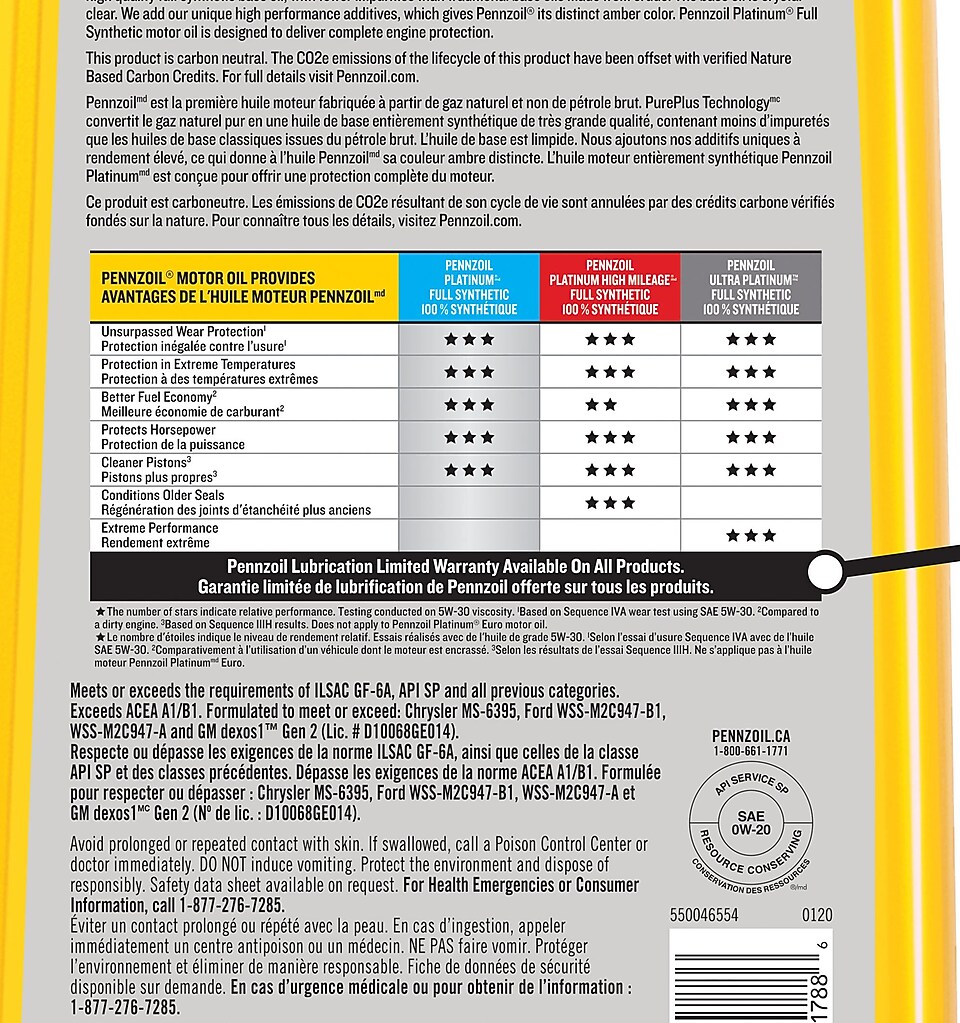 You will find an important line under the chart that says, "Pennzoil Lubrication Limited Warranty available on all products". Pennzoil Platinum Full Synthetic motor oils help extend engine life and protect for up to 15 years or 804,672 kilometers, whichever comes first, guaranteed3. Click here to sign up!
One of the most important things you will see is the American Petroleum Institute (API) Service Symbol, commonly known as the 'Donut' on the right side of the label. On a bottle of Pennzoil Platinum Full Synthetic SAE 0W-20 motor oil you will see this Donut.
At the top of the Donut is the current API Service Category, API SP, which became effective May 1, 2020 and supersedes all other categories. API SP is for use on motor oils designed for cars, vans, and light trucks with gasoline engines. If the engine in your vehicle calls for an older category, API SP motor oils will work just fine as they are backward compatible with previous categories. The middle of the Donut shows the viscosity grade of the motor oil and at the bottom it will say Resource Conserving which will help vehicles meet fuel economy standards according to API.

There is also a listing of specifications. One of the most important specifications is that the motor oil meets or exceeds the ILSAC GF-6A specification. The ILSAC GF-6 specification required new engine tests designed to prevent low-speed pre-ignition (LSPI), reduce timing chain wear and measure fuel economy enhancements.

The GF-6A motor oil specification is designed for efficient, high-performance gasoline-powered engines, many of which require low viscosity motor oil to meet the needs of vehicle manufacturers. This includes motor oils such as SAE 0W-20, SAE 5W-20, and SAE 5W-30.

A second category called GF-6B, is for motor oils used only in gasoline engines that require SAE 0W-16 motor oils. The API Service Mark for these oils is a shield to distinguish it from GF-6A oils and only appears on oils that are 0W-16. Pennzoil Platinum Full Synthetic motor oil is offered in 0W-16.
There are also several engine manufacturers that require motor oils to meet specific tests they have established to ensure that it performs properly in their engine. There are several tests that that the motor oil passed listed on the label as well.

The label on all Pennzoil Full Synthetic motor oils provide you with plenty of information about the motor oil and the specifications it meets to provide optimal engine protection. In fact, Pennzoil motor oils exceed specified industry requirements.

When selecting a motor oil for your vehicle, you should always consult your owner's manual for the proper viscosity to use, then you may utilize the Pennzoil Oil Selector.

One final item on the bottle that will assist you is the Pennzoil customer line (1-800-BEST-OIL). You can call the toll-free number with any questions about Pennzoil products or applications for your vehicle.
 
1 The CO2e lifecycle emissions of this product have been offset with verified Nature-Based Carbon Credits.
2 Based on the latest industry standard.
3 15 years or 804,672 kilometers, whichever comes first, if you exclusively use Pennzoil Platinum® Full Synthetic motor oils. Your engine must have less than 201,168 kilometers and have been manufactured in the past 72 months. To maintain your warranty, change your vehicle's oil and oil filter at least as often as recommended by the vehicle manufacturer. Enrollment required. Keep your receipts. Other conditions apply. Click here to enroll and for full details and terms.