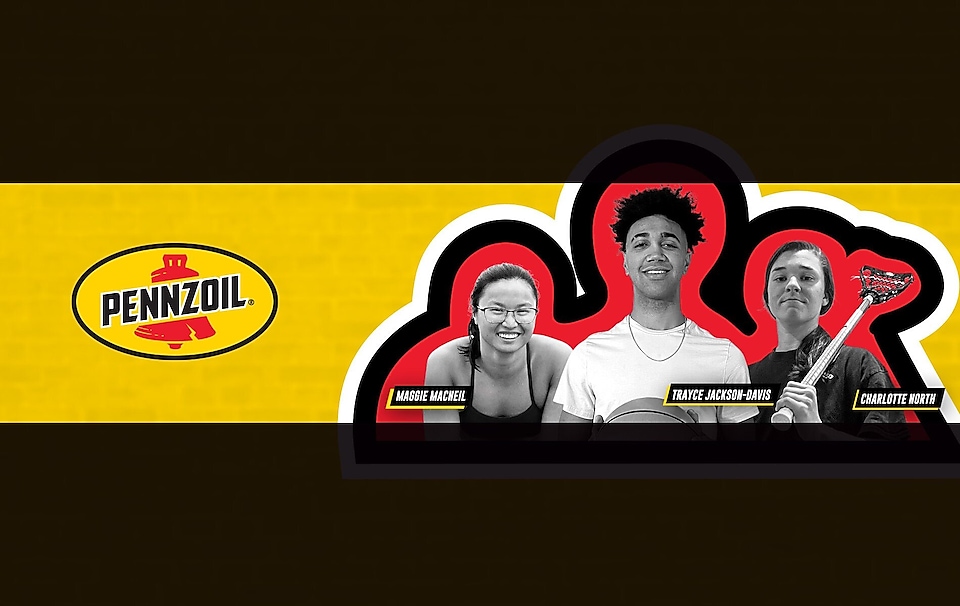 Pennzoil Adds Three Division I Collegiate Stars to Its Sponsorship Roster of Elite Athletes
Pennzoil® is heading 'back to school' with its first ever Name, Image, and Likeness (NIL) deals! The brand is expanding its elite roster of athletes through the endorsement of three Division I athletes: Trayce Jackson-Davis, Maggie MacNeil, and Charlotte North. Whether in the classroom, on the basketball court, in the swimming pool or on the lacrosse field, each of these three athletes brings a new caliber of performance and proof to the Pennzoil line-up.
Trayce Jackson-Davis is a junior forward on the Indiana University Men's Basketball Team; Maggie MacNeil is a senior on the University of Michigan's Swim Team; and Charlotte North is a graduate student playing the attack position on the Boston College Women's Lacrosse Team.
Each athlete's amazing accomplishments, unique stories and commitment to performance prove how they are seamless additions to Pennzoil's already impressive roster of athletes. From March through June 2022, Pennzoil will cheer on Trayce, Maggie, and Charlotte as they push the limits of their own drive within sports, academics and community service, elevating Pennzoil to a whole new playing field!
Pennzoil recognizes the integral role vehicles play in the everyday lives of student athletes – from the classroom, to practice and back again, these athletes are always on the road! Through this connection, Pennzoil is proud to call these standout athletes teammates and is excited to share their unique stories. Throughout the 2022 spring semester, each athlete will provide a glimpse into how their vehicles are "unsung teammates" in their everyday lives and pursuit for athletic greatness. Be on the lookout for more from the athletes as Pennzoil puts the spotlight on their already bright futures!
Check out Trayce, Maggie and Charlotte's stories of proof below.
Trayce Jackson-Davis
Trayce is focused on performance and on his drive for greatness, Pennzoil wants in on the ride.
Hailing from Greenwood, Indiana, Trayce is a standout junior forward for the Indiana University Men's Basketball Team. In his three short years at Indiana, Trayce has already stacked up an impressive list of accomplishments. Most notably, he was named First Team All-Big Ten for the 2020-2021 season and won the 2019 Indiana Gatorade Player of the Year for his athletic abilities, academic excellence, and exemplary character.
Along with his love for basketball, Trayce has had a passion for cars his entire life. Upon turning professional, one of his first moves will be off the court – upgrading to a new ride!
Maggie MacNeil
Speed recognizes speed – and Maggie is bringing a new caliber of performance to Pennzoil.
Although Maggie has been a decorated swimmer her entire life, last summer she accomplished what many athletes can only dream; she earned the highest honors in all of athletics – an Olympic gold medal! MacNeil is currently a senior swimmer for the University of Michigan, but she is also an Ontario, Canada native who competed for Canada in the 2020 Tokyo Olympics. Specializing in butterfly and freestyle, Maggie won an impressive three medals in the 2020 Olympic games, including gold in the 100-meter butterfly. On top of that, Maggie was named Best Female Athlete at the Tokyo Olympics by the Association of National Olympic Committees. On the collegiate level, Maggie is a two-time NCAA champion (100-yard freestyle; 100-yard butterfly), 14-time Big Ten champion and two-time Big Ten Swimmer of the Year – just to name a few of her accomplishments.
Maggie spends her mornings and nights driving to swim practice and ensures her car is in excellent condition. As a DIY-er who's never had her Subaru cleaned professionally, Maggie takes tremendous pride in the appearance of her vehicle -- which also means nobody is allowed to eat in it!
Charlotte North
Charlotte's driven performance and experience with vehicle maintenance aligns her perfectly with our elite line-up of athletes!
Originally from Dallas, Texas, Charlotte is currently a graduate student at Boston College and an attacker for the women's lacrosse team. In 2021, Charlotte led the Boston Eagles through a historic season, concluding with their first ever national championship. Headlining her personal accolades, Charlotte was named the winner of the 2021 Tewaaraton Award, given to the top men's and women's lacrosse player in the country. Mary Garber ACC Female Athlete of the Year, IWLCA Player of the Year, First Team All-American, NCAA Tournament Most Outstanding player – just to name a few of Charlotte's impressive accomplishments in the 2021 season alone.
Charlotte currently drives a 2021 Jeep® Grand Cherokee and as a DIYer takes pride in keeping it in peak operating condition! Charlotte counts on her car for cross-country drives from Dallas to Boston, as well as for ferrying teammates to and from practice and home games in all sorts of Boston weather.