The Man With the Golden Hand Brake Powered by the Oil in The Yellow Bottle
When you have a reputation for bringing jaw-dropping performances to life, your next move can never be a step backwards – it needs to push the limits. 
Enter Ken Block's latest performance test with Pennzoil synthetics: Terrakhana. We took his Ford Fiesta ST RX43 to the rolling dunes of Swing Arm City, UT, for a high-flying, dirt shredding, engine revving thrill-ride.
The terrain was extreme. The goal was pure domination. With Pennzoil synthetics under the hood, Ken Block was free to bring his vision of Terrakhana to life.
"Coming to Southern Utah in the summer is extremely tough on the equipment" said Ken Block. "For me to have Pennzoil as the lubricant inside the car, it gives me a lot of confidence that I may break something jumping it, or sliding through some of the turns but knowing that the engine and the oil protecting it is really rock solid is a big confidence boost for me."
Ken Block's right hand men were also on-site for Terrakhana. As a part of the Hoonigan brain trust, they were charged with ensuring that the excruciating conditions of Swing Arm City, UT, didn't hamper the acrobatic maneuvers executed in Terrakhana. 
"As you go up in temperature you go down in performance. And the higher you go in altitude the lower you go in oxygen. It's a lot of extra torture that goes on the engine." explained Forrest DuPlessis, Shop Manager of Hoonigan Racing and Ken Block's event spotter in FIA Rally Cross.  ""Motor oil for us everything. It's the lifeblood of the engine. We like to test in environments like this because it's arguably the worst conditions we'll ever see."
"With such high temperatures, high altitudes and high output from the engine, it makes it much more important that we have an oil that can perform at those limits," added Tim Jackson chief engineer of Hoonigan Racing Division. "Even just 1 or 2 degrees can make it go over the threshold."
"Every time I come to Swing Arm City, I just look and imagine what I can do with this Ford Fiesta" Ken expressed. "It's great to come down here and really play." 
If there's one thing Terrakhana proves, it's that performance bows to no terrain. As the official motor oil of Ken Block and the Hoonigan Racing Division, we're proud to have Pennzoil synthetics provide the complete protection and top engine performance demanded by the Head Hoonigan in Charge.
Pennzoil Synthetics: Terrakhana (Official) Feat Ken Block's Ford Fiesta ST RX43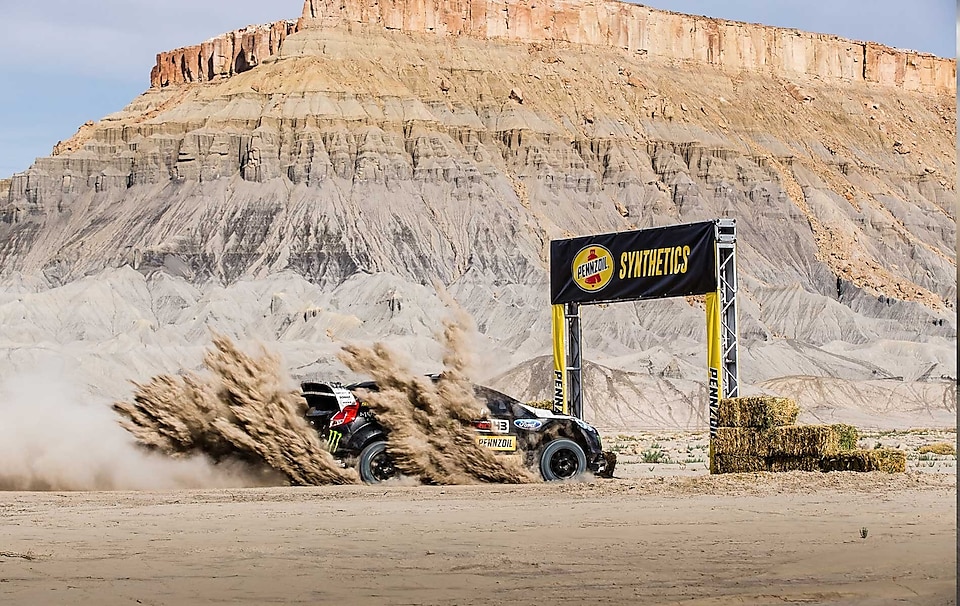 Pennzoil Synthetics Presents Terrakhana Featuring Ken Block
See More Next Level Performance from Pennzoil
Pennzoil provides your car with the most advanced full synthetic motor oils for complete protection for top engine performance.