Learn How Team Penske Preps in the Off-Season
As Team Penske prepares for the upcoming 2023 NASCAR and NTT IndyCar seasons, each driver shares their unique off-season routines ahead of another action-packed year in motorsports.
Joey Logano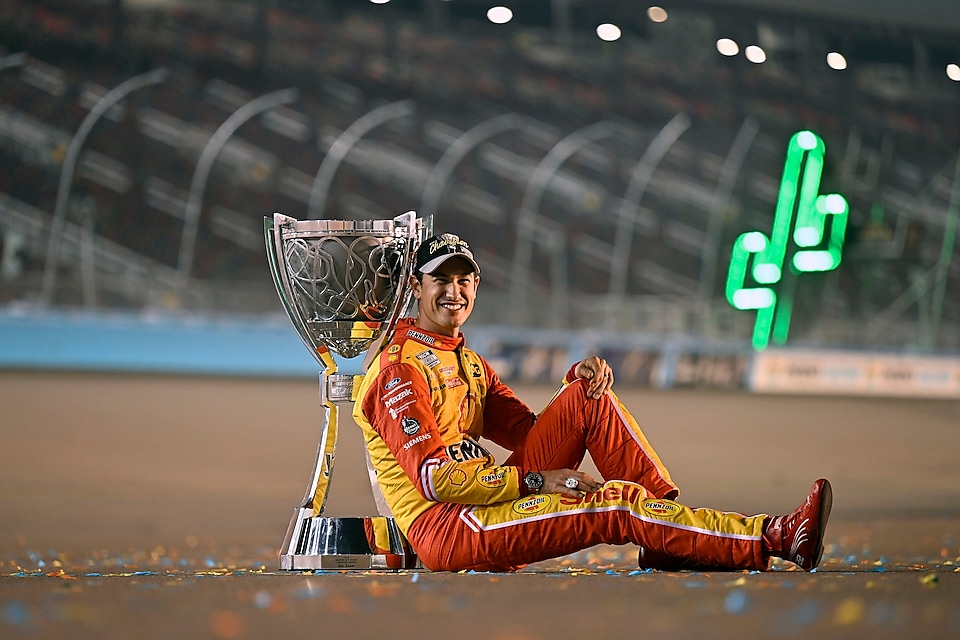 JOEY LOGANO WITH 2022 NASCAR CHAMPIONSHIP CUP
Joey Logano, the 2022 NASCAR Cup Series champion, is excited to continue to celebrate the Championship with Team Penske, spending time with family, and get into some intensive physical training in the off-season.
PENNZOIL: What is your off-season training routine?
LOGANO: This year's off-season will fly by after winning the 2022 NASCAR Cup Series Championship. The off-season fills up with Team Penske and sponsor-related appearances and events to help celebrate the Championship together. In between those events, not counting time with family and friends for the holidays, we'll still be able to do some test sessions and simulated racing work prior to the start of the 2023 season. Physically, I still workout 5-6 days a week first thing in the morning and continue to keep my cardio endurance levels up and mix in varieties of circuit training.
PENNZOIL: How does being the 2022 NASCAR Cup Series Champion impact how you're preparing for the next season?
LOGANO: On the preparation side, our preseason work is the same going into each season. Even though we won in 2022, we treat 2023 as a completely brand-new slate and don't think that our success in 2022 will carry over to give us an advantage in 2023. If anything, people want to knock us off even more now since we're a two-time champion.
PENNZOIL: What is your favorite thing to do with your kids over your break?
LOGANO: We're outside every day. Hudson is on his go-kart every day. Jameson loves riding on the tractor and loves to play in the mud. Emilia is still under a year, but she tags along with us and watches her brothers go wild.
Austin Cindric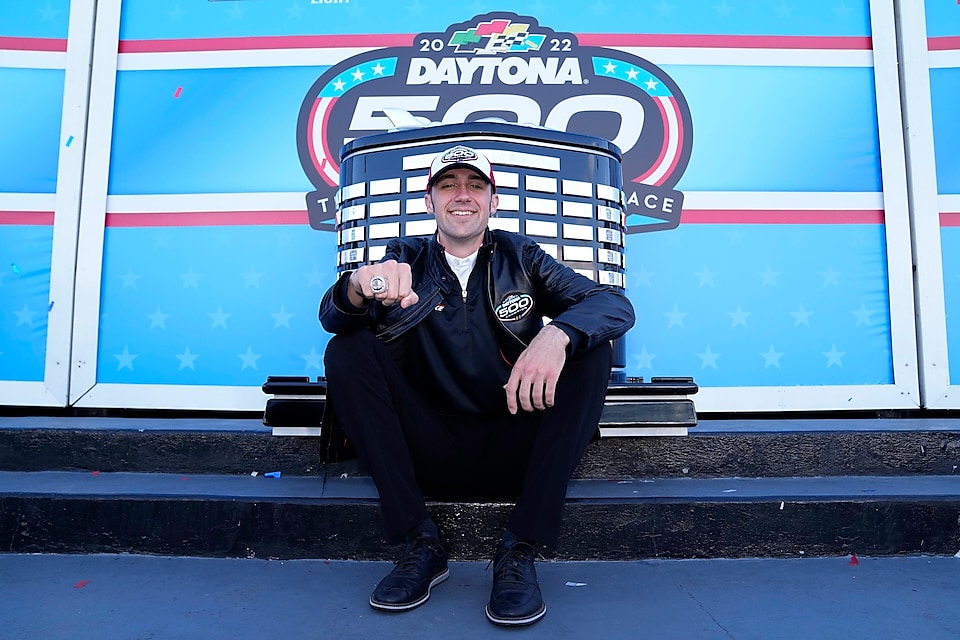 AUSTIN CINDRIC NAMED 2022 NASCAR CUP SERIES ROOKIE OF THE YEAR
The 2022 NASCAR Cup Series Rookie of the Year, Austin Cindric is working hard to take his career to the next level in 2023. In the off-season, he can be found working on his project car and spending time with family.
PENNZOIL: What does your training routine look like in the off-season compared to the rest of the year?
CINDRIC: During the off-season, my trainer and I focus a lot more on weighted exercises. My off-season training is more strenuous because I don't have to recover as much, and I don't go through as much stress during the weekends as I would if it was during the race season. During the season, I'm focused more on mobility and maintenance than anything else, but during the offseason, my trainer wouldn't feel bad if I'm hurting.
PENNZOIL: Is there anything that you're building in your garage that you're excited to work on during the break?
CINDRIC: Because I don't get to drive my own racecars, one of the best parts of my off-season is that I get to work on my project car. It's a 90's Volvo station wagon that I'm retrofitting a Ford V8 5-liter Coyote into, which is a very awkward car to be fitting such a powerful engine into. It's the fact that it's goofy and no one else has one that makes me so excited about it. I've been doing all the work on it since about 2018, and it's what I like to do in my spare time.
PENNZOIL: Do you have any vacation plans you are excited about?
CINDRIC: My brother lives in Norway, so I don't get to see him very much, so I get to see him over the holidays. He and I are going to spend New Year's out in Colorado, so that should be fun and a good way to get refreshed and ready for next season.
Ryan Blaney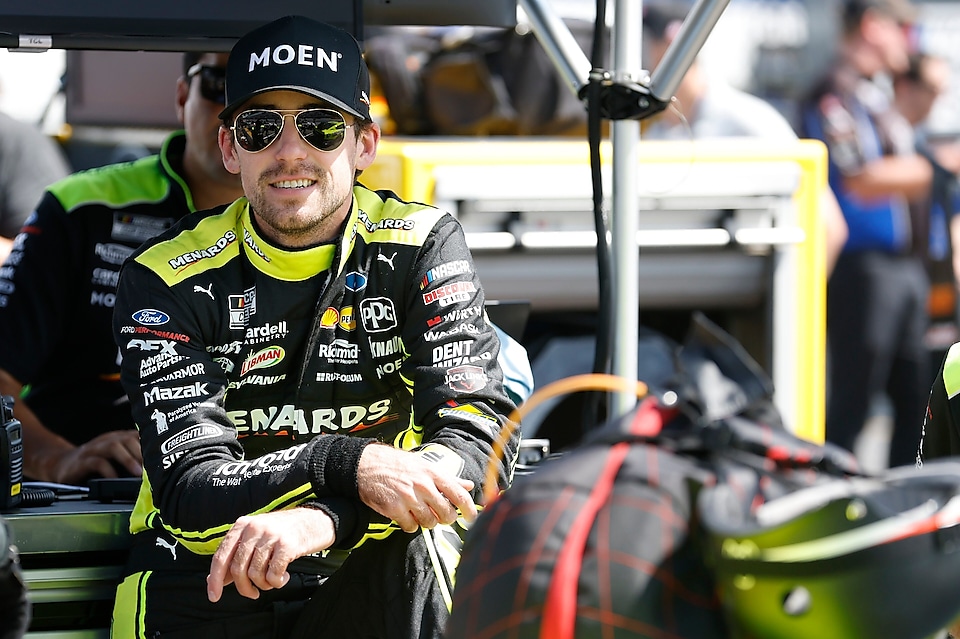 RYAN BLANEY AT COOK OUT SOUTHERN 500 RACE
Ryan Blaney's win at the 2022 NASCAR All-Star Race at Texas Motor Speedway solidified his spot in the post-season playoffs, a major accomplishment in his career, thus far. Following the 2022 season, Ryan is taking some much-needed relaxation time and traveling to Mexico with his family.
PENNZOIL: How are you spending your time in the off-season and what do you have planned before preparations for the 2023 season begin?
BLANEY: I usually take some breaks in the off-season to see family. This year, we're taking a vacation to Mexico because we usually try to travel around a good bit. It's nice to get some downtime, but also be able to travel outside the country as it's something I really enjoy.
PENNZOIL: As a third-generation racer, is there a lot of talk of motorsports even when you're in the off-season?
BLANEY: I feel like if I go to my parent's house, my dad and I are always talking about what racing is currently going on, the previous year, and the year ahead. We don't talk about it a ton in the off-season since we do it so much during the season. When my friends in racing get together during the offseason, we rarely talk about motorsports just because we see each other at the track every weekend during the year, so it's nice to be able to talk about something different.
PENNZOIL: Pennzoil is turning 110 this year, how would you celebrate your 110th birthday?
BLANEY: I would want 110 separate candles on my birthday cake. That's my only ask, it has to have all of those.
Will Power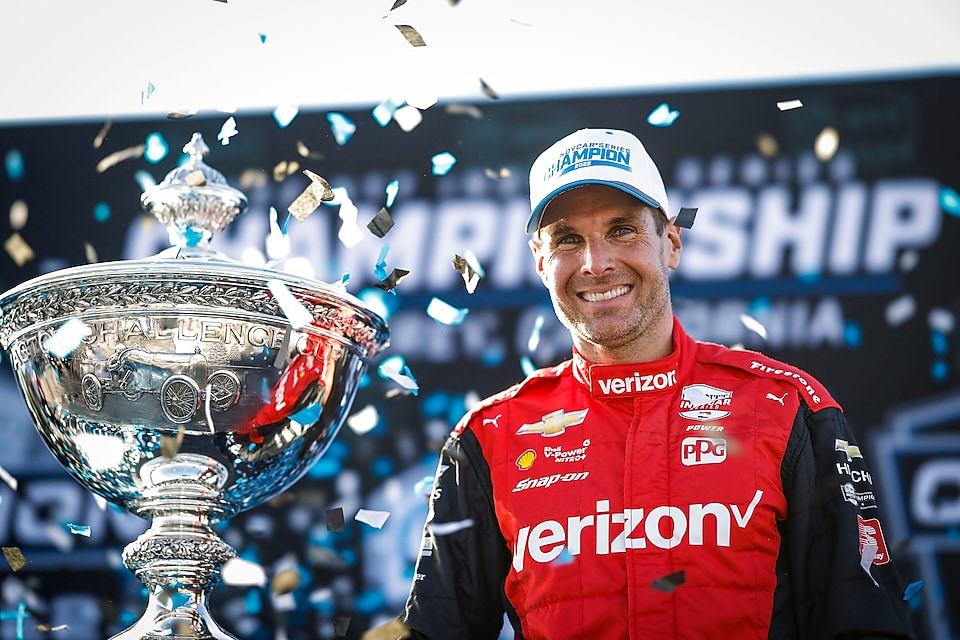 WILL POWER CELEBRATES 2022 INDYCAR CHAMPIONSHIP AT FIRESTONE GRAND PRIX OF MONTEREY
Will Power ended last season with the 2022 NTT IndyCar Series championship title. During the off-season, Will can be found catching up on Netflix, playing the drums, or heading out for a race around the go-kart track.
PENNZOIL: What is your workout routine during the year vs. during the break?
POWER: There are a lot of differences. We use more weights since we're not getting the muscle build from the car over the off-season. It's a more intense workout regime altogether.
PENNZOIL: As the NTT IndyCar champion, how are you mentally getting ready for the 2023 season?
POWER: Being the champion isn't even on my mind, I forgot about it, and need to be reminded about it honestly. No one cares if you're last year's champion, so I've already begun to look ahead to 2023 and start fresh. I'm just doing what I always do and have done for years, just keeping with normal preparation.
PENNZOIL: What car do you drive at home? What Pennzoil product do you use in it?
POWER: I drive a Chevy Suburban and make sure to keep the Pennzoil Platinum full synthetic in it.
Josef Newgarden
JOSEF NEWGARDEN CELEBRATES FIRST-PLACE VICTORY AT THE BOMMARITO AUTOMOTIVE GROUP 500
Josef Newgarden rounded out the 2022 season as the runner-up to his teammate, Will Power, in the NTT IndyCar series, with 5 overall race wins - even winning the most races of the 2022 season. In the off-season, Josef is looking forward to taking some time off to relax, keep up with his teammate, Scott McLaughlin and prepare for another exciting year of racing in the IndyCar series.
PENNZOIL: How do you and Scott McLaughlin keep the bromance alive in the off-season?
NEWGARDEN: Well, the most exciting thing we have on deck is that Scott and I will be co-driving the #8 Oreca 07 Gibson for Tower Motorsports with Kyffin Simpson and John Farano. We're super excited to both be making our debuts at the Daytona 24-hour and to be able to do it together is a special experience. It's an event that was on my bucket list, along with the 24 Hours of Le Mans, so I am beyond grateful for this opportunity.
PENNZOIL: Do you have any self-care tips you're willing to share, that help you prepare for an upcoming racing season?
NEWGARDEN: Trying to relax as much as possible, even though we still have a ton going on in the off-season. My biggest self-care tip is to stay as sharp as possible to be the best I can be in 2023.
PENNZOIL: If you could challenge any Team Penske driver, past or present, to a game of ping pong, who would you choose? Why?
NEWGARDEN: I think I'll go with Ryan Blaney. He was my doubles partner at our 2021 tournament benefitting SeriousFun Children's Network and we brought home the win, so have to keep that going.
Scott McLaughlin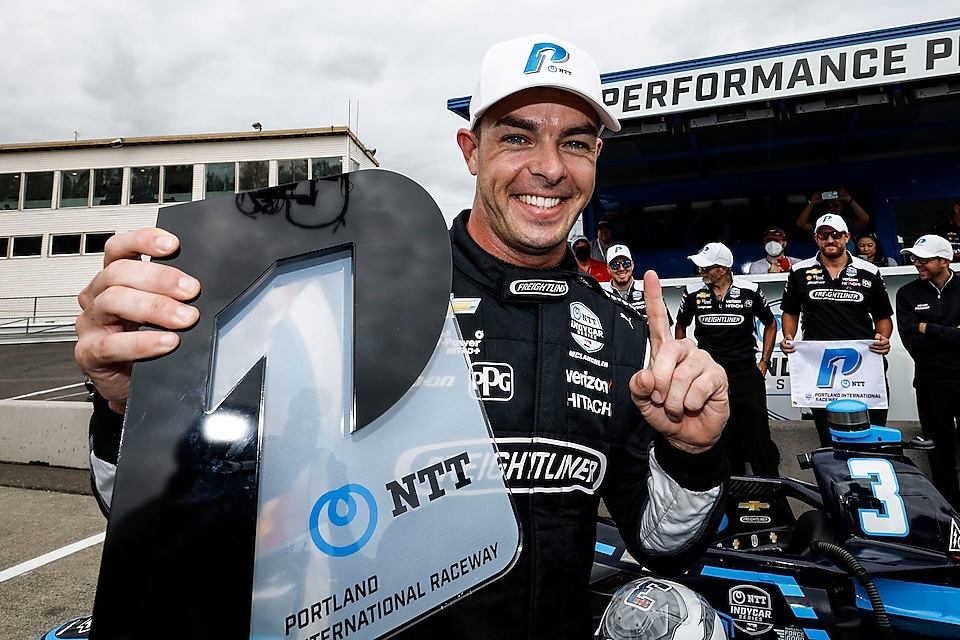 SCOTT MCLAUGHLIN CELEBRATES FIRST PLACE VICTORY AT THE 2022 GRAND PRIX OF PORTLAND
In 2022, Scott McLaughlin signed a multiyear contract extension with Team Penske, ensuring that he'll be with the team for years to come. Originally from New Zealand, Scott traveled back home to spend time with family and friends and to enjoy some homemade food in the off-season, while also keeping up with his aspiration to run a half marathon.
PENNZOIL: What do you enjoy the most about being home in Australia for the off-season?
MCLAUGHLIN: Seeing everyone and catching up with my family and friends, people that I haven't seen in a while. This is the longest I'll ever be home because I haven't been home in 3 years, but I'm certainly excited to get back to America and get on with things.
PENNZOIL: Do you have a favorite Australian snack or meal that you look forward to eating when you are home?
MCLAUGHLIN: For me, it's more from New Zealand. I can't wait to go home and have my mom cook for me – she makes the greatest lamb roast that we eat on Sundays. For a sweet snack, New Zealand has these things called chocolate fish, and they are hands down my favorite chocolate.
PENNZOIL: What does your training schedule look like during the off-season?
MCLAUGHLIN: Training in the off-season is a little bit more sporadic. I had a little bit of a rest at first, but am certainly getting back into it now. Now, I've been doing lots of runs and am even aspiring to run a half marathon. I'll also do about 2-3 days a week of strength, but we'll generally kick things up and do more high-intensity training to make sure I'm getting ready for my first race, which will be 24 Hours of Daytona at the end of January.
PENNZOIL: Can you give us a sneak peek into what you and Josef Newgarden have in store for the next season of your YouTube show, Bus Bros?
MCLAUGHLIN: We're going to kick it off at the 24 Hours of Daytona together. We'll be racing the LMP2 together, so that's exciting and we're going to be doing plenty of shows during the couple weeks we're down in Daytona. It's really going to be more of the same because the minute we start planning anything, that's when it turns bad. The more we wing it, the funnier and more real it is. We can't plan for anything or give any sneak peeks because, at the end of the day, we fly by the seat of our pants all the time.
Fans can follow along with each driver's off-season journey through their Instagram accounts and keep an eye out for Team Penske drivers in the 2023 season!