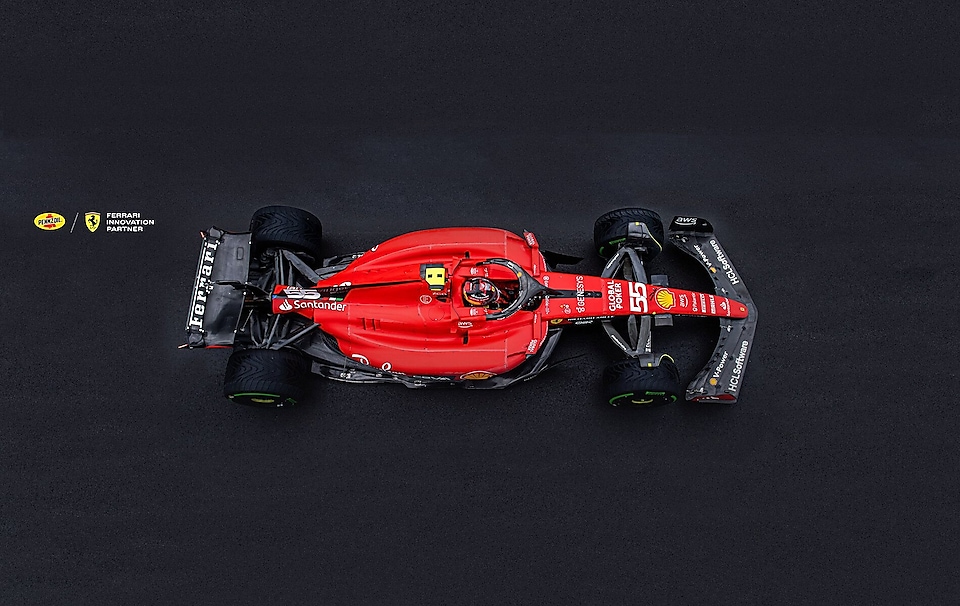 Powering Performance: The Shell Pennzoil Partnership with Scuderia Ferrari
In 1929, Enzo Ferrari established Scuderia Ferrari, a racing team that quickly gained prominence in motorsports through outstanding performances on the track. As Enzo Ferrari worked to bring Scuderia Ferrari to the forefront of professional racing, Shell worked alongside the factory from its inception, providing lubricants and fuels for their vehicles. In 1947, the first-ever Ferrari sports car left the factory with Shell lubricants and fuel in its engine and cemented one of the most innovative relationships in motorsports.
Since then, the legacy of this relationship is evident in every vehicle leaving the production line in Maranello, Italy. Every Ferrari GT sports car, or any of the latest innovations from Ferrari produced in Italy, is filled with Pennzoil® PurePlus® Technology in the engine.
Shell Pennzoil helps Scuderia Ferrari protect its power units to handle the demands of Formula 1 racing. Pushing the limits of performance is at the core of the collaboration between Shell and Scuderia Ferrari, combined with a shared passion for innovation, performance, and cutting-edge technology.
In 2021, Shell announced the continuation of this historic partnership with Scuderia Ferrari in motorsports, hoping to reach new levels of success and support further advancements in technology and sustainability.
Federico Sceriffo, an Italian drift driver who drives a Ferrari 599 GTB Fiorano that he has nicknamed "Fiorella," is also supported by the Shell Pennzoil and Scuderia Ferrari relationship. Growing up in Italy and later joining the Formula Drift racing series in the United States, Federico holds a close relationship with his Italian roots and the connection to Ferrari.
FORMULA DRIFT DRIVER, FEDERICO SCERIFFO, PICTURED NEXT TO HIS FERRARI 599 GTB FIORANO, "FIORELLA"
While the drivers are supported by Shell Pennzoil in their engines, they also play a crucial role in supporting technological advancements. In the Ferrari family, any athlete behind the wheel can give real-time feedback and critical data on how the lubricants and fuels respond and perform in different scenarios. Shell Pennzoil uses this performance data to develop the products that are available to consumers, such as Pennzoil Ultra-Platinum®.
SCUDERIA FERRARI FORMULA 1 DRIVERS CHARLES LECLERC AND CARLOS SAINZ IN THE SHELL TRACKSIDE LAB
Inside the Shell Trackside lab, the long-standing relationship between Shell and Scuderia Ferrari continues to evolve, with the common goal of enhancing the overall performance and efficiency motor oil. Scientists who are on the frontlines during a race weekend or back in their labs work closely to research, develop, and test specialized Shell Pennzoil lubricants and fuels that are tailored to meet the specific requirements Ferrari motorsport vehicles endure.
Shell Pennzoil will continue together with Scuderia Ferrari to power each mile, pushing the boundaries of the automotive industry through this historical relationship. For more information on Pennzoil's motorsports collaborations and the latest motorsports updates, check out Instagram!