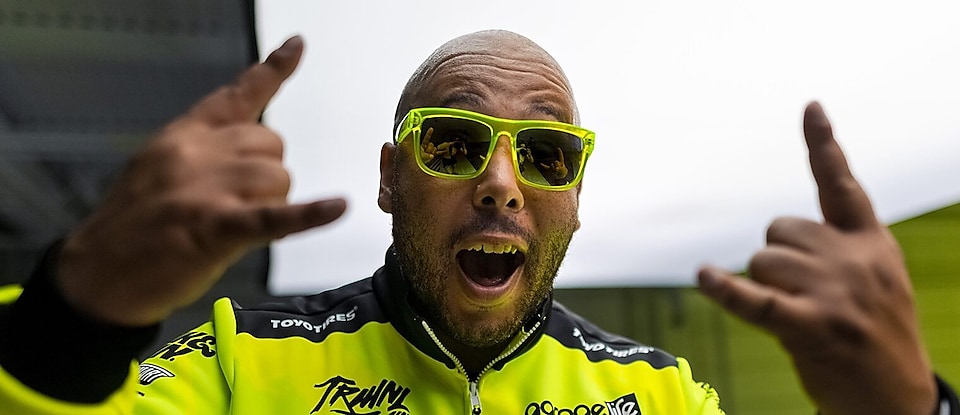 Automotive Creator Jonny Grunwald: Driven by Passion
Automotive creator Jonny Grunwald is driven by passion, one that began during childhood and has catapulted his career into an exhilarating journey. As a dynamic force in the industry, he has captured the hearts and minds of car enthusiasts worldwide.
With a thriving presence on social media and a growing portfolio of projects, Jonny continues to establish himself as one of the biggest influencers in car culture. Whether he's debuting a unique car build, collaborating with fellow Pennzoil ambassadors, or developing new products for enthusiasts, Jonny is determined to push the boundaries of automotive creativity.
Pennzoil sat down with Jonny to discuss his career path, current projects, and get a glimpse into what's ahead in 2024.
PENNZOIL: Where did your journey in the automotive industry begin?
GRUNWALD: Shortly after graduating high school and working summer jobs, I purchased my original FD RX7, which I now use for time attacks across the country. I later went on to work at AQ Motorsports, one of the most popular tuning shops and time attack race teams in the area, and Bulletproof Automotive while I was in college. At Bulletproof, I specialized in project management of high-end vehicle projects and importing some of the most coveted Japanese brands in the world. Looking back, I could never have dreamed of having my own tuning shop, building countless "viral" cars, let alone rubbing shoulders with so many icons of the trade, from SEMA to Tokyo Auto Salon, less than a decade later.
JONNY GRUNWALD PICTURED AT 2022 SEMA SHOW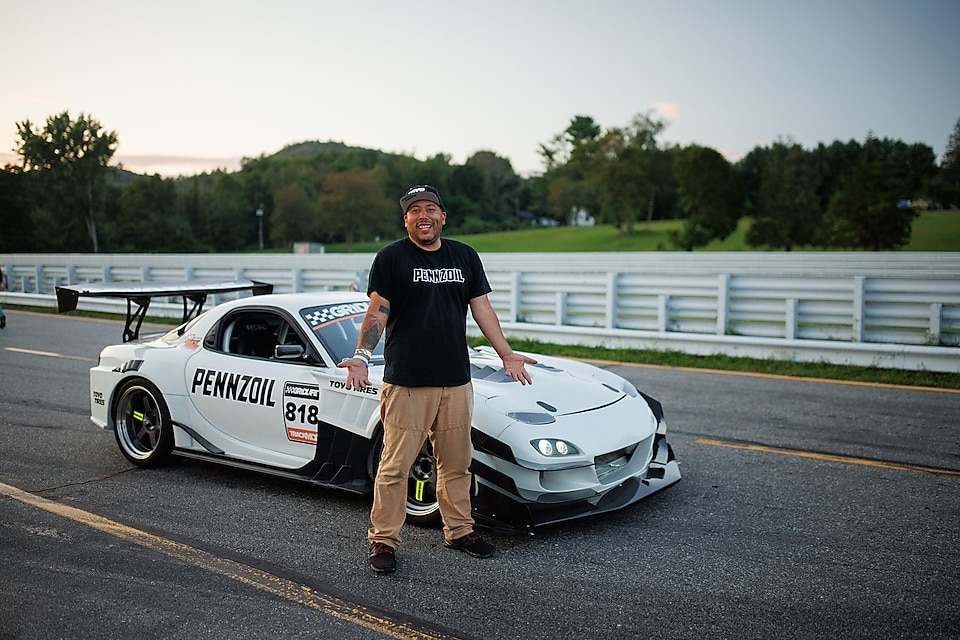 JONNY GRUNWALD WITH PENNZOIL-POWERED VEHICLE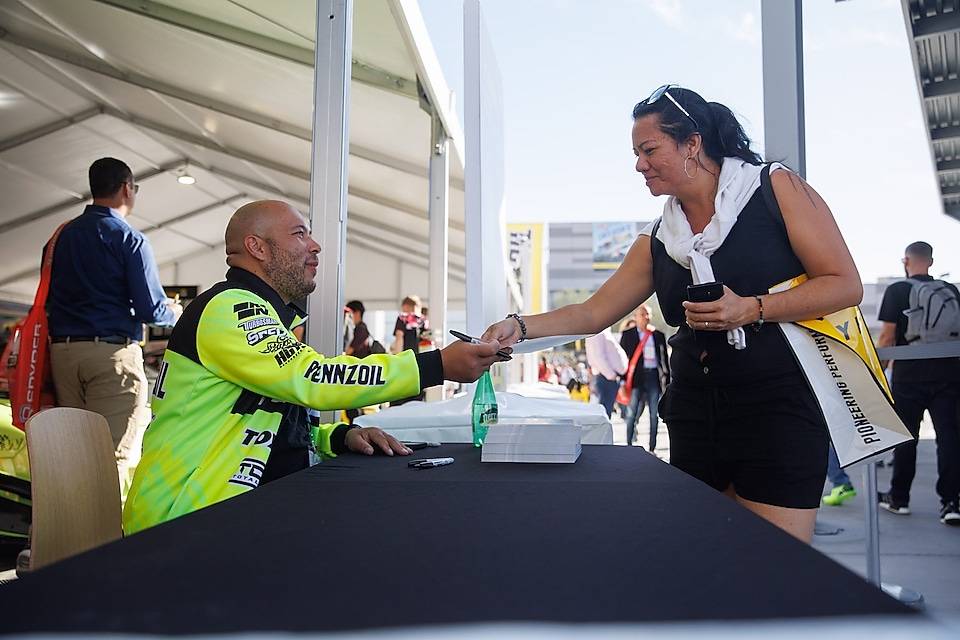 JONNY GRUNWALD GREETING FAN AT 2022 SEMA SHOW
PENNZOIL: Who were some early influences that played a significant role in shaping your career?
GRUNWALD: My mother, because she was the one who taught me how to drive a stick shift and gave me the strength to follow my passion. I've always loved imported cars. Growing up overseas, I spent a lot of time in various karting series in Shanghai, China, so naturally, I fell in love with motorsports. Attending the RedLine Time Attack events in Southern California in 2005 was another key factor in solidifying my passion for motorsports.
During childhood, I fell in love with the cult classic Initial D anime series and Japanese car culture from my travels overseas. But, as I got older, I became more invested in hunting down "Option - Hot Version" DVDs with driving legend Keiichi Tsuchiya and reading Hyper Rev Magazines to learn about Japanese tuning, parts, and culture. Even though I couldn't read Japanese, the pictures were enough eye candy for me. While I had a pulse on what tuning companies were doing globally and differently than typical U.S. builders, these inspired me to choose rotary engines as my platform of choice.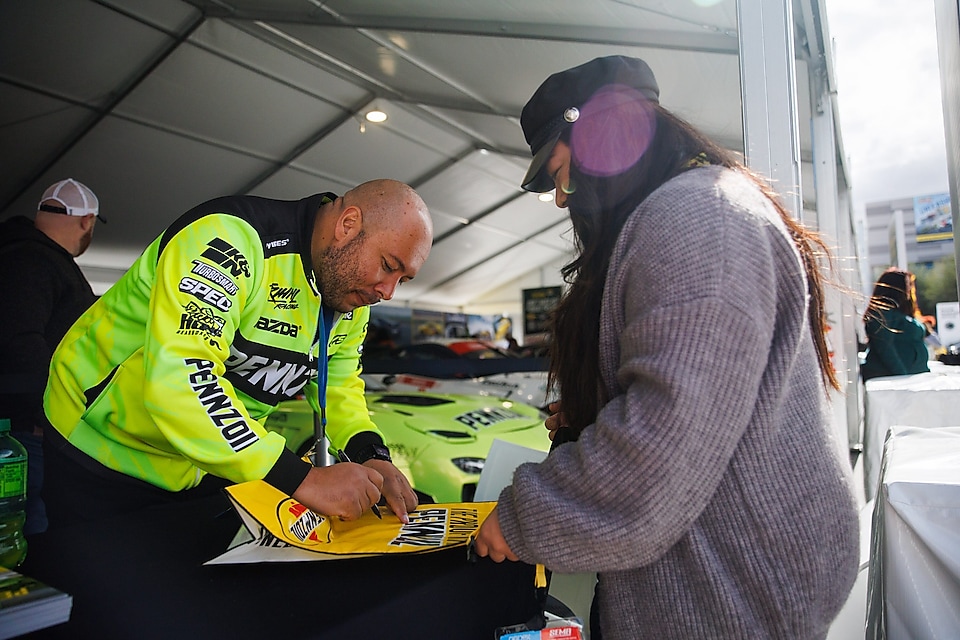 JONNY GRUNWALD SIGNING AUTOGRAPH FOR FAN AT 2022 SEMA SHOW
PENNZOIL: What aspect of working in the automotive industry are you most passionate about?
GRUNWALD: I love the ability to educate newcomers and legacy enthusiasts about what's possible with the modern tuning of our favorite heritage import cars. Now, we're seeing a huge resurgence in car culture, specifically with the muscle car era, that's transcending into popular culture. There are so many misconceptions about aspects of maintenance and performance, so to be able to teach enthusiasts makes me smile because it's the information that I struggled to find during my childhood. I like to remind enthusiasts that we're blessed to be in the era of technology, so you're not in the dark! Build that project car, get out, and drive!
PENNZOIL: You seem to have a growing portfolio of projects, including Pikes Peak, Time Attack FD RX7, the new Mazda FC RX7 Pennzoil Build, and Gymkhana Grid 20B Mazda RX7. What is your favorite project that you've worked on so far?
GRUNWALD: 2023 has been a wild year! I've had the pleasure of moonlighting as a project manager for Team Magic with RedBull, Mazda, and Toyo Tires. This year was our rookie year at Pikes Peak attending with our 4 Rotor Twin Turbo Mazda 3 with Mad Mike Whiddett of Red Bull as the driver and Rhys Millen as his mentor. Through testing and the event, I spent some time with the driver as well as Rhys, receiving valuable insights on his experiences and what's required for the dangerous feat. Our team broke 2 Pikes Peak records for the fastest Mazda and rotary-powered vehicle to make the attempt, and to top it off, Rhys broke his own production car record in his M4! It was an unforgettable experience and a dream of mine to attempt the Pikes Peak International Hill Climb one day.
It's hard to focus on a specific project and say it's my favorite because each one requires a ton of blood and sweat. Right now, I would consider the Time Attack Mazda RX7 to be my favorite. Being able to transition that vehicle from an award-winning show car into a time attack weapon was a new challenge for me. I've driven at racetracks across the country, connecting with fellow Pennzoil ambassadors and enthusiasts, and most people are shocked to see such a beautiful-looking car being driven on the track after demonstrating simple routine maintenance in the pit. It puts a smile on my face to show enthusiasts what's possible with a vehicle that's been with me since high school and has changed my life all these years later.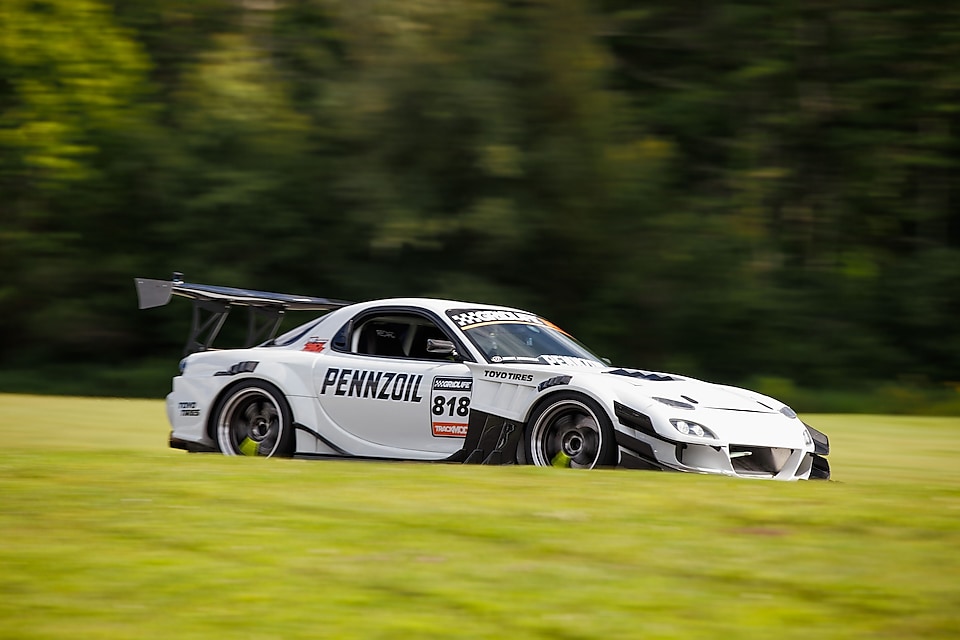 JONNY GRUNWALD'S 13B TCP MAGIC TIME ATTACK MAZDA RX7 AT LIME ROCK CIRCUIT
JONNY GRUNWALD'S PENNZOIL ULTRA PLATINUM POWERED FORD RAPTOR
PENNZOIL: Your collaboration with Pennzoil and Kei Miura in Japan has been seen all across social media. What was the fuel that ignited this exciting project?
GRUNWALD: Back at SEMA 2022, the Pennzoil family surprised me with an epic rendering of the IMSA FC RX7 reenvisioned to match my Pennzoil Gymkhana Grid FD RX7 livery. Miura San has been a close friend for almost a decade and is a huge fan of the Shell and Pennzoil vintage racing heritage and, of course, the FC RX7. I reached out to him to design the next evolution of his RX7 product line, which was an exciting experience. After having worked together over the past year, we have a lot in store for the tail end of 2023 through 2024, all powered by Pennzoil.
PENNZOIL: Were there any aspects of Kei Miura's work that inspired you for your other projects?
GRUNWALD: Kei Miura has been a ghost designer for some of the most popular aero brands in the world. His unique perspective on exotic, imported, domestic, and classic vehicles are each universally recognized, although hidden between different popular and viral brand names. While Miura continues to succeed in his work, he always remains focused and driven to the next project and never takes time to celebrate any unique accomplishment. I think this highlights his drive and motivation for the industry, much like the campaign from Pennzoil, Long May We Drive. I find Miura to be an inspirational piece of modern car culture and a key player in the popular automotive culture resurgence.
[Background music]
[Screen] [In vision] Pennzoil SAE 20W-50 bottle
[Screen] [In vision] Pennzoil vehicle
JONNY GRUNWALD: I'm Jonny Grunwald, the owner of TRMNLracing, from Long Beach, California. This is my 1994 Mazda RX-7, three-rotor, running Pennzoil 20W-50.
[Screen] [In vision] Jonny working on Pennzoil vehicle, pouring Pennzoil SAE 20W-50 into engine
JONNY GRUNWALD: At TRMNLracing, we've grown and distributed several popular niche brands from Japan, namely TCP Magic, TRA kyoto, and Varis. As well as support multiple race teams, including Team Magic with Red Bull, and Liberty Walk Racing. Aside from our aero and engine parts business, we're especially known for our in-house special projects for the SEMA show.
[Screen] [In vision] Jonny Grunwald posed in front of Pennzoil vehicle
JONNY GRUNWALD: Long May We Drive.
PENNZOIL: If you could pick one Pennzoil product to take for a joyride, which one would it be?
GRUNWALD: I'm actually a huge fan of the Pennzoil Snowmobile Premium Plus 2 Stroke at the moment! I don't own a snowmobile just yet, but I'm using this oil for rotary premix lubricant with Shell V Power 91 Octane Pump Gas and Shell ClearFlex E85 It's the first full synthetic 2-stroke lubricant offered by Pennzoil, which allows me to test it with ethanol. I'm still in the entry-testing phase, but regardless, it's exciting to have another product I can use with rotary engines.
PENNZOIL: Do you have a favorite car? If so, which one and why?
GRUNWALD: My favorite car, of course, is the FD RX7. It has gorgeous styling that people still mistake for a new vehicle. It's extremely lightweight and a momentum-based vehicle that can easily be converted into a loud powerhouse. Nearly 30 years later, the sound and feeling are so unique that it can't be ignored.
PENNZOIL: As a longtime member of the Pennzoil family, how has this collaboration powered your career?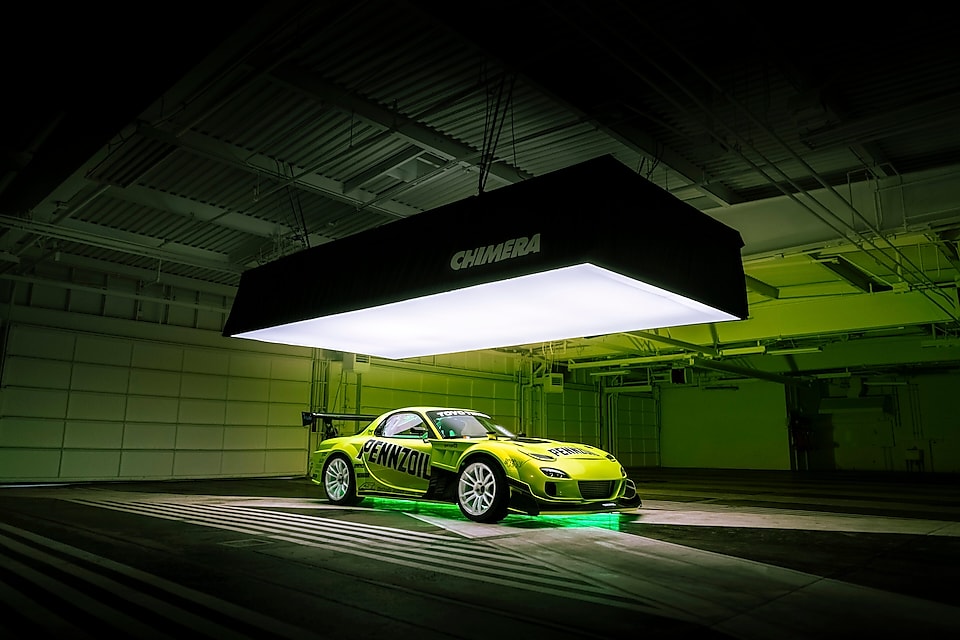 PENNZOIL-POWERED MAZDA RX7 BUILT FOR GYMKHANA GRID AND EXHIBITION DRIFTING
GRUNWALD: The collaboration with Pennzoil has been life-changing and a career highlight. The opportunity to connect with so many like-minded individuals who are also passionate about car culture is a unique experience. Pennzoil has given me the ability to push my creative limits beyond my wildest dreams in terms of world-debuting projects, the ability to research and develop new products for enthusiasts, and most importantly be a part of a growing team that is cultivating the best direction together.
PENNZOIL: How does the new campaign from Pennzoil, Long May We Drive, resonate with you?
GRUNWALD: Long May We Drive is the epitome of who I am as an enthusiast, builder, and driver. When I'm seeking endless roads and adventures across the globe, it's Long May We Drive. When it's long days and nights dedicated to finishing a special project, it's Long May We Drive. When we're pushing our limits to the edge of the track, it's Long May We Drive. I view cars as a representation of who we are as individuals, pushing ourselves to be the best in our respective disciplines in life and empowering and maintaining our vehicles with the best to navigate life's roads.
PENNZOIL: With the depth of experience and knowledge you've gained in your career, what advice would you give to aspiring content creators in the automotive industry?
GRUNWALD: There are no shortcuts in any industry you choose. But, if you're dedicated and have a specific vision of how you can leave an impact and help others, you'll be surprised how things may turn out. The automotive industry is smaller than you think. It may take time but don't let off the gas.
SNEAK PREVIEW OF UPCOMING PENNZOIL COLLABORATION WITH JONNY GRUNWALD AND KEI MIURA, DEBUTING AT SEMA 2023
PENNZOIL: Anything you can give us a sneak peek at for 2024?
GRUNWALD: A new world debut body kit from Kei Miura that'll debut on my Pennzoil 20B FD RX7 for Gymkhana Grid in 2024 is in the works. Although I can't share too many details of my upcoming projects, I am working on a Toyota GR86 project in collaboration with Pennzoil and Varis Japan that will debut in the Toyo Tires Treadpass at SEMA 2023. There's a lot in store for 2024 for this special collaboration, so make sure to stay tuned!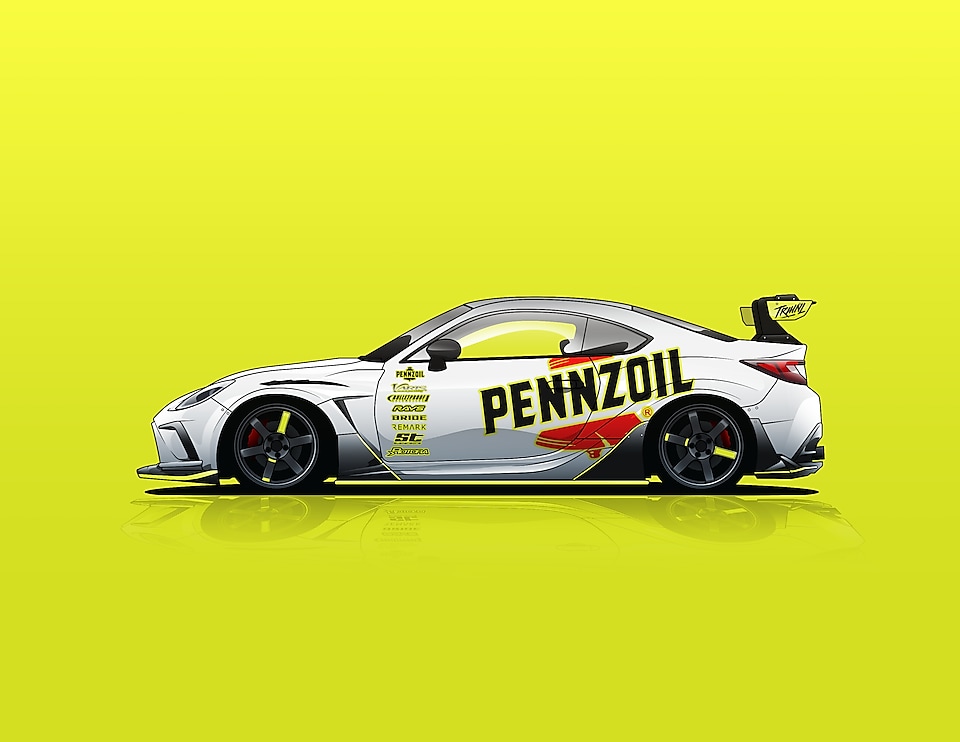 SNEAK PREVIEW OF UPCOMING GR86 COLLABORATION WITH VARIS JAPAN, DEBUTING AT SEMA 2023
Follow along to see the latest updates on Jonny's projects throughout 2023 and into 2024 by heading to his website following him on Instagram and keeping an eye out for an upcoming episode of Michael's Motor Alley!