Team Penske
Team Penske Verizon IndyCar Team
Team Penske fields a lineup of drivers in the Verizon IndyCar Series that rivals no other. It includes 2017 Verizon IndyCar Series Champion, Josef Newgarden, 2016 IndyCar Champion, Simon Pagenaud, 2014 IndyCar Champion, Will Power.
In 2015, three of the four drivers finished in the top five of final driver standings, racking up three combined wins, including an Indianapolis 500 victory. On top of the historic victory by former Team Penske driver, Juan Pablo Montoya, at Indianapolis Motor Speedway, the team also amassed 11 Verizon P1 Awards (pole wins) throughout the season.
Turns out 2015 was just a warm-up for the dominance of the Team Penske Verizon IndyCar Team. 2016 bore witness to a clean 1-2-3 sweep of the podium with Simon Pagenaud, Will Power, and now former IndyCar driver, Helio Castroneves. The trio took the league by storm with powerful performances through 2016 as the winningest IndyCar team with a combined 10 victories, 31 top-five finishes, and 43 top-10 finishes.
With Newgarden's four victories and 2017 championship win and Simon Pagenaud's five victories and 2016 title, both drivers delivered Team Penske the performance Roger Penske intended the day he signed them to the team as champions. Needless to say, we're looking forward to an encore performance in 2018.
Team Penske NASCAR Team
NASCAR drivers, Joey Logano in the No. 22 Shell/Pennzoil® Ford Fusion, and Brad Keselowski in the No. 2 Miller Lite Ford Fusion, have quickly become some of the most dominant competitors on the NASCAR track since teaming up in 2013. Keselowski, the 2012 Monster Energy Cup champion, proved he was a force to be tested in 2017 with a spot in the Championship 4 NASCAR Playoffs.
In 2018, Team Penske will expand to three full-time drivers by adding 2017 Playoff contender, Ryan Blaney, to the stable. Blaney, who finished ninth in the point standings in just his second full season of competition, will pilot the No. 12 REV Ford Fusion next season alongside teammates Keselowski and Logano.
Since Keselowski's 2012 Sprint Cup Championship, he and Logano have combined in taking the checkered flag 39 times with over 8,000 laps led. That includes Joey Logano's landmark 2015 Daytona 500 victory, making him the second-youngest driver to ever win NASCAR's flagship race.
Fast forward to 2017. Joey Logano and Keselowski continued their standout Team Penske careers to the tune of four combined wins, 25 top-five finishes and 38 top-10 finishes. During the playoffs, Keselowski performed admirably and carried Team Penske to a 4th-place finish at Homestead-Miami in the NASCAR Monster Energy Series Championship. The drivers behind the wheels of the No. 2 Miller Lite Ford Fusion, the No. 22 Shell/Pennzoil Ford Fusion, and the No. 12 REV Ford Fusion have proven that Team Penske will be a formidable team that can perform against any driver at any track at any time. That's next level performance—and Pennzoil is proud to be a part of every lap.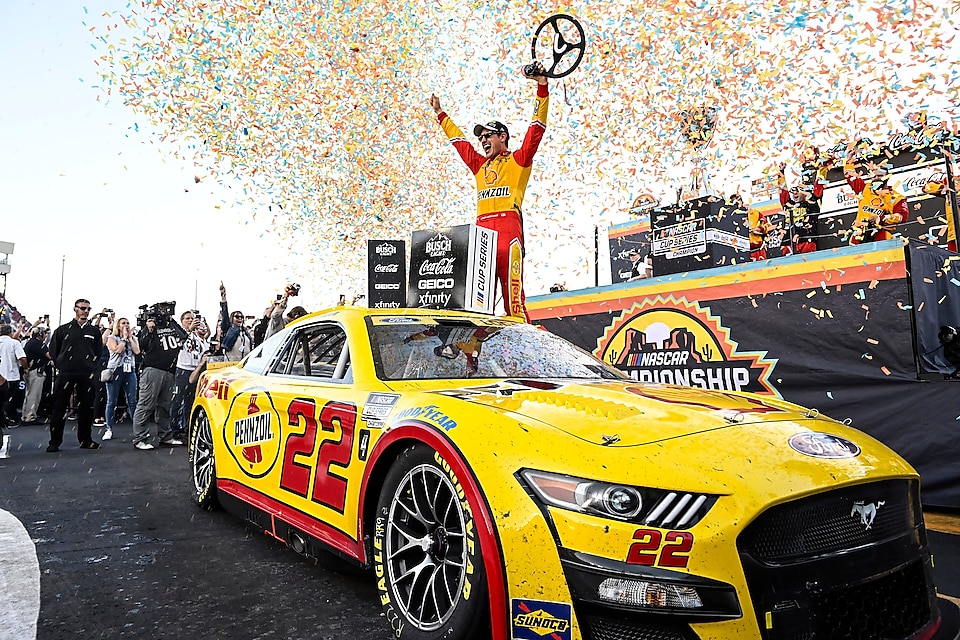 Josef Newgarden 2017 Championship