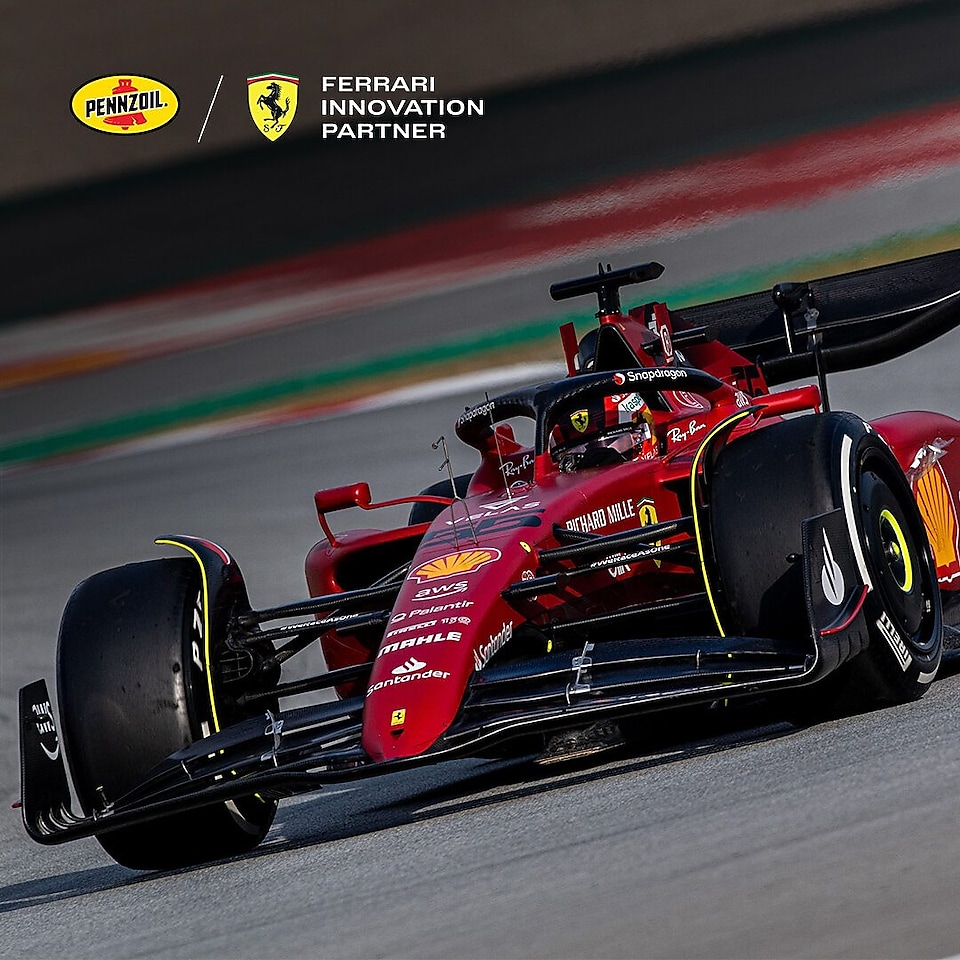 Shell, Pennzoil Power Scuderia Ferrari Performance Gain
APRIL 14, 2016
Combination of motor oil with Pennzoil PurePlus Technology™ and Shell V-Power Race Fuel delivered perofrmance gain equal to half a second per lap in the SF15-T Formula 1® Power Unit in 2015. 
Shell V-Power race fuel and Pennzoil PurePlus Technology™ motor oil delivered an unparalleled 25% of total performance gain to the SF15-T Formula 1® power unit of Scuderia Ferrari in 2015. That results in almost half a second per lap, equating to an average of 30 seconds over an entire race. That performance gain helped power Scuderia Ferrari to 14 podiums, three victories, and second place in the 2015 Formula 1® Constructors' Championship with Sebastian Vettel and Kimi Raikkonen.
"We worked closer than ever with our colleagues in Maranello where we fully integrated our development plans to optimize the fuel-engine package and it was great to see that our hard work paid off, helping to power the team back to winning ways," said Guy Lovett, Innovation Manager at Shell Motorsport.
"2015 was a really positive year for Scuderia Ferrari and we made great strides in performance, particularly with the power unit, compared to last year. The considerable improvements Shell made with its race fuel and motor oil with Pennzoil PurePlus Technology™ really did contribute to our own improvements on the race track, not only helping to deliver greater horsepower but reliability as well," said James Allison, Technical Director at Scuderia Ferrari.
Shell's Technical Partnership with Ferrari dates back to the 1930s and is considered one of the most technically advanced and successful in the history of motorsport. In Formula 1® the Technical Partnership with Scuderia Ferrari has amassed 12 Drivers' Titles and 10 Constructors' Championships. Formula 1® allows Shell to test its Shell V-Power race fuel and Pennzoil® with PurePlus Technology™ motor oils under the most demanding and controlled conditions. The learnings gained from working with Scuderia Ferrari are transferred directly to the development of Shell's premium commercial products for the road.
Furthermore, every new Ferrari road car leaves the Maranello factory with a full tank of Shell V-Power fuel and motor oil with Pennzoil PurePlus Technology™.
Watch a Ferrari 488 GTB push Pennzoil® to the limit in JOYRIDE Circuit.