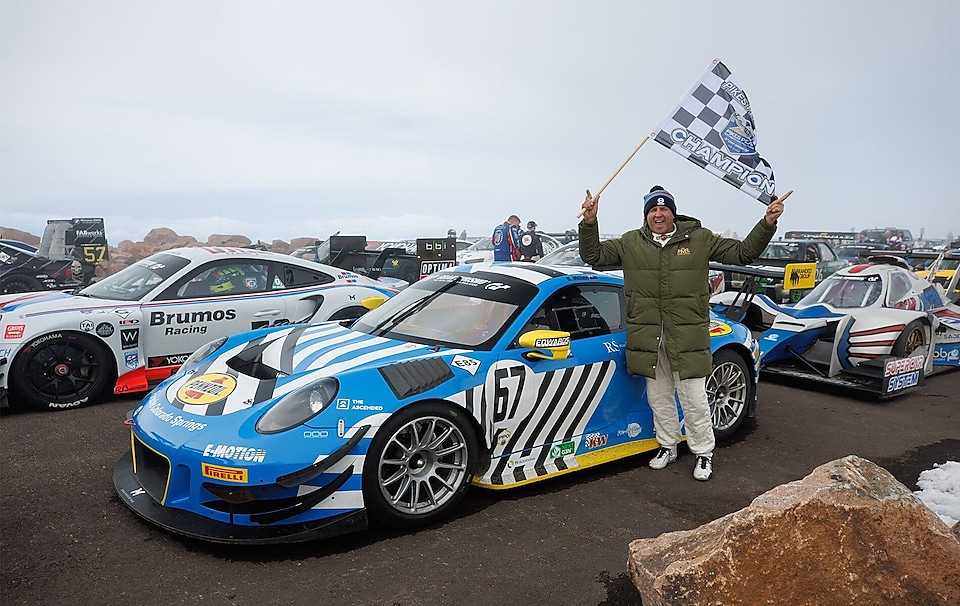 Q&A with Race and Stunt Driver Rhys Millen
Rhys Millen is a well-respected figure in the automotive community, known for being at the top of his game, no matter the trade. Born with an innate drive as the son of legendary New Zealand racing driver Rod Millen, Rhys followed in his father's footsteps, blazing his own path along the way. Throughout his career, Rhys has raced in rally cars, founded his own company, and been the unsung stunt driver behind some of the most iconic action- packed franchises in Hollywood.
Rhys has always been a fan of the iconic yellow bottle, but his formal relationship with the Pennzoil began in 1994, when Pennzoil sponsored him as a driver while he was competing on his father's racing team. Pennzoil sat down with him to discuss how he got his start in motorsports, stunt driving, and more. As well as how his relationship with Pennzoil has evolved with him throughout his career.
PENNZOIL: What was your first experience in the world of motorsports?
MILLEN: My first experience was witnessing my father race when I was about six years old. Living in New Zealand, I'd go to his races and listen for the rally cars coming through the forest and be able to identify the sound of my father's engine so that I could start cheering for him. As far as an actual experience in a race, I sat co-driver with my father in one of his rally cars and competed in a hill climb in New Zealand.
PENNZOIL: Do you have any childhood memories that you believe played a part in your racing career?
MILLEN: When I was younger, I used to watch "The Dukes of Hazzard." Between the combination of the style of driving that my father was doing at the time and watching that TV show, it gave me hope, a dream, and a vision to one day exceed in everything I could to make that come true. After leaving New Zealand and moving to the United States to go to college and work for my father, I was able to turn a hobby of racing, after eight years, into a profession that has lasted me about 18 years.
PENNZOIL: What was your first car?
MILLEN: My first streetcar was a 1988 Toyota Pickup Truck, and my first rally car was a Mazda MX6, which was a hand-me- down from my father. However, my interest was in bikes for most of my childhood because I was a New Zealand downhill mountain bike champion. I wanted to apply everything that I went to school for, and every part of the trade, fabrication, and design that I learned, to my own company to build bike frames. But I was exposed to the speed of cars and rapidly changed interest from bikes to cars in a short period. Today, I still ride a bike for recreational purposes, just not as a competitive sport.
PENNZOIL: Who is/are your role model(s)?
MILLEN: My father goes to the top of the list of role models because of all his success in motorsports and business. Aside from my father, I looked up to Carlos Sainz Sr., who was the top international rally driver when I was growing up. I loved his style of driving, his commitment, and his "never say die" attitude. To watch him still competing today and beating all the juniors is a testament to his experience, knowledge, and patience because he has nothing to prove to win another championship.
PENNZOIL: You founded RMR (Rhys Millen Racing) at the age of 21. How has the company grown since you founded it?
MILLEN: It all started when I was racing and making parts for my car. Then, a magazine article came along and did a feature on the car that I was working on, and from that point, people started calling me and asking for parts. The industry was small at that point, so I hired someone to take phone calls and ship fabricated parts which then turned into hiring an installer and a fabricator. My end goal was always motorsports, and I was able to turn motorsports into the focus of the company.
The company has gone through peaks and valleys but has always been here. It's still very enjoyable, and it's something that I'm excited to wake up for and work on a new project on a given day. Between cars we've built for the studio world and other uses, each year brings a set of fresh ideas, which is exciting.
PENNZOIL: How did you first get involved with Pikes Peak International Hill Climb?
MILLEN: In 1989, I traveled from New Zealand, for the first time, during my summer break to watch my father compete at Pikes Peak that year. It was an incredible experience to take in the sights and sounds and spectate from the top of the mountain. At the time, I was 16 years old and had no connection to driving, because I was too busy riding a bike everywhere. I had no interest in cars, but the spectacle, sights, and sounds were something I couldn't forget. A year later in 1990, I moved to the United States to help my father build cars, and then in 1992, in a short span of two years, my interest changed. I competed in my first Pikes Peak race in 1992, where I won my division, was named Rookie of the Year, and had the privilege of sharing the podium with my father who had won in his class that year.
PENNZOIL: You competed against your father, Rod Millen, in the 2022 Pikes Peak International Hill Climb
MILLEN: Thankfully, we've always been in different divisions or different kinds of cars. One instance I can think of when we competed against one another was in 2006 at Baja Racing. This was my first opportunity in an equal vehicle to race against my father. I started 5 minutes behind him and then within 70 miles, I was within one minute of him. I was so focused on catching up to him that no less than two miles later I crashed, letting him lead with a victory in the race. That was the one and only opportunity to race head-to- head with him, and I learned a valuable lesson at a young age.
PENNZOIL: How did you get your start as a stunt driver?
MILLEN: It started in 1994 when I booked my first national TV commercial. The position stemmed from an audition that would require me to be on-camera talent, but they also were looking for stunt people to do mountain bike and driving scenes. Where they were going to have to hire three separate people, I stepped up and could do all three. I worked with a director that my father had driven for in the past so while he was away, I would step in and drive. After about 5 or 6 years, that became the forefront of my career focus, and I began to focus more on driving with feature films and TV commercials rather than competing in motorsports.
PENNZOIL: What have been your most memorable projects?
MILLEN: Over the years, the most memorable that comes to mind was working on "The Fast and the Furious" franchise. For "The Fast and the Furious: Tokyo Drift," I was tasked with being the lead driver and driver coordinator, putting together the driving team. At that point, the style of driving was relatively new and something that hadn't been seen on camera yet, and from then on, it would set the bar for what type of driving was requested for feature films.
Another memorable moment was having the opportunity to drive the general lead for "The Dukes of Hazzard" movie in 2005. Growing up in New Zealand and watching that TV show every Friday night, it was a surreal full- circle moment for me and wearing a blond wig for three months was a pretty fun time.
PENNZOIL: How did you first get involved in working with Pennzoil?
MILLEN: This relationship is one that dates back to my father. In 1994, I was racing Pikes Peak and ran under the Pennzoil umbrella with his program and it blossomed. It's been a great opportunity to work with the brand for the past 8-10 years.
PENNZOIL: How has your partnership with Pennzoil impacted your career?
MILLEN: We've been able to have a lot of fun together! The Joyride series with Pennzoil was an absolute dream project for someone like myself, and I think it reignited my name and brand to keep me fresh within the industry. While directors that I had been with driving for over 15 years were starting to phase out, all the references to the Joyride series brought my name to the front of the list for a new and younger generation of directors in film and commercials.
PENNZOIL: Do you have any advice for aspiring drivers, whether it be for the big screen or the track?
MILLEN: When I first started in motorsports, I had to prove not only to myself but to others what I was capable of doing on the track. Thankfully, over the years I have developed great partnerships and have been able to prove myself. Now, my advice is to go out and drive…..and don't be afraid to make mistakes.
As 2023 kicks off, Pennzoil looks forward to continuing to drive success with Rhys Millen! For more information, head over to Rhys Millen Racing and follow Rhys on Instagram to stay up to date with his latest work.