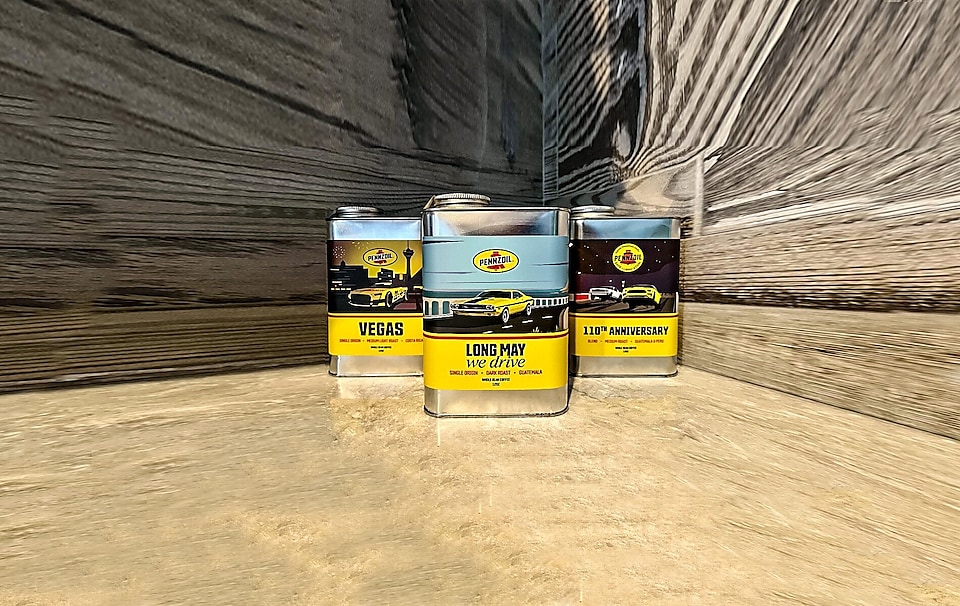 Long May We Drive: Pennzoil Collaborates with Drive Coffee to Celebrate 110th Anniversary
The spirit of driving. For 110 years, Pennzoil has inspired all types of drivers because no two journeys are ever alike – whether taking a long drive down memory lane or discovering new trails into uncharted territory – every driver deserves recognition for their unique story on wheels. And while we've long relied on our cars to reach new destinations, we've also counted on coffee to give us the energy to kickstart the journey.
In celebration of major Pennzoil milestones this year, including its 110th anniversary, the new Long May We Drive campaign, and the 6th annual Pennzoil 400, the brand teamed up with Drive Coffee to put a spotlight on its heritage as a leader in car culture.
Drive Coffee delivers an entirely different coffee experience, providing premium and responsibly sourced coffees inspired by automotive history. Recognizing coffee as the ignition to our day, they believe in the power of coffee to tell stories and inspire. To Drive Coffee, your morning brew is the first step in putting your drive into action toward your goals and dreams. As meticulous as mechanics, Drive Coffee engineers strive to source the best beans and create packaging that maximizes the freshness and flavor of what's inside.
Like the perfect cup of Drive Coffee, every drop of Pennzoil has been crafted with care and dedication to quality. The premium nature and shared commitment to quality are what brought Pennzoil and Drive Coffee together to create exclusive products to celebrate Pennzoil's new campaign, Long May We Drive.
Timed to Pennzoil's 110th anniversary, Long May We Drive is a celebration of cars and the inspired lives they help us lead. The campaign highlights real people and their remarkable stories on how Pennzoil helps their engines run smoothly through all of life's moments.
To garner excitement around the Long May We Drive launch, Pennzoil teamed up with Drive Coffee to develop VIP kits, complete with two customized Drive Coffee products – the Pennzoil 110th Anniversary Blend and the Pennzoil Long May We Drive Blend. Recipients were encouraged to start their (figurative) engines with a cup of Drive Coffee and get ready to join Pennzoil for the next mile.
The special edition Pennzoil 110th Anniversary coffee represents a rich history and a bold future. Brewed to power the next journey, it features a Guatemalan and Peruvian medium roast blend with rich toffee notes.
The special edition Pennzoil Long May We Drive coffee recognizes cars and the opportunity they afford us to explore new places and create memories to last a lifetime. It features a full-body single-origin Guatemalan dark roast with notes of dark chocolate and brown sugar, brewed for those ready to hit the open road.
PENNZOIL'S AMBASSADORS OPENING THEIR VIP KITS WITH DRIVE COFFEE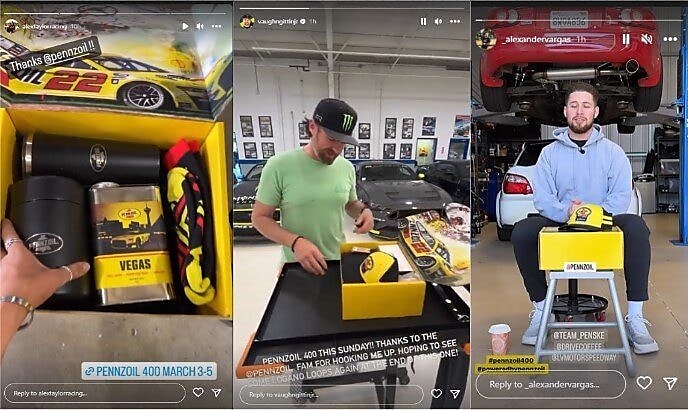 The collaboration also inspired an exclusive Pennzoil 400 blend. The Pennzoil 400 offering was brewed with the drive needed to cross the finish line and featured a heavy-body Costa Rican medium roast with milk chocolate and almond notes.
Ahead of the 2023 Pennzoil 400 in Las Vegas, select members of the Pennzoil community received pre-race kits featuring the Drive Coffee Pennzoil 400 blend to get them energized for race weekend.