Bryce Menzies to Launch Into Era of Next Level Performance, Literally
Bryce Menzies New Frontier will launch him into a new era of performance as he attempts to break the offroad truck jump record in his Pro 2 truck.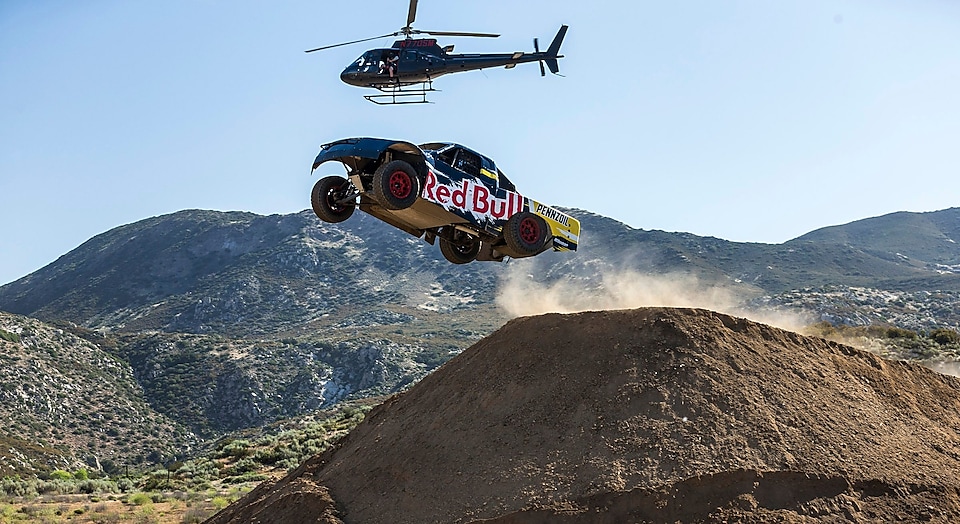 Bryce Menzies is no stranger to breaking down the walls of innovation — or in this case, jumping them. Bryce plans to jump his off-road racing truck over an entire Southwest ghost town. Instilled with a passion for performance as a young kid, his fascination for jumping long distances grew alongside his experience. Now, as team owner and driver at Menzies Motorsports, Bryce relies on Pennzoil Synthetics® to not only power his engines through performances, but have his back in achieving his off road dreams.                                                                                                     
"I had the idea for this jump because it's just something that I've always wanted to do. Ever since I was a kid, I've loved jumping things – dirt bikes, buggies, whatever," said Menzies. "And as an adult, I've really wanted to see how far I could jump my race truck. We race all the time, but we never get to come play on jumps like this, so it's awesome that Red Bull and Pennzoil are behind me and making this whole thing possible. I'm just looking forward to doing it and really having fun in the process."                                              
Bryce Menzies New Frontier will launch him into a new era of performance with a Pro 2 truck for his vehicle of choice as he jumps a ghost town in the old west. In the harsh desert environment of a yet-to-be-disclosed location, he'll explore pushing the limits of the 900 horsepower, 750 lb.-ft of torque off-road truck to the max with Pennzoil Platinum® Euro 5W-40 Full Synthetic motor oil with PurePlus® Technology flowing through its engine to help sustain strength in the harsh temperatures.
Bryce continues as a leader in an unforgiving sport where being the best means pushing boundaries and setting yourself apart. In this case, that means shattering an off-road truck jump world record which stands now at 332 feet. Bryce aims not only to claim a new world record with his New Frontier feat, but to mark the beginning of a new phase in his career as he enters the international racing scene. With the backing and support of Pennzoil® Synthetics to help power his performance, Menzies is expected to continue breaking down barriers, propelling innovation, and inspiring those who may one day challenge the standards he is sure to set.
Bryce Menzies New Frontier powered by Pennzoil® Synthetics will air on NBC August 28 at 2pm ET / 11pm PT. 
SEE MORE NEXT LEVEL PERFORMANCE FROM BRYCE MENZIES
Pennzoil Synthetics power Bryce Menzies to second Red Bull Frozen Rush title
We caught up with Bryce and some off the Menzies Motorsports crew at their Las Vegas headquarters.