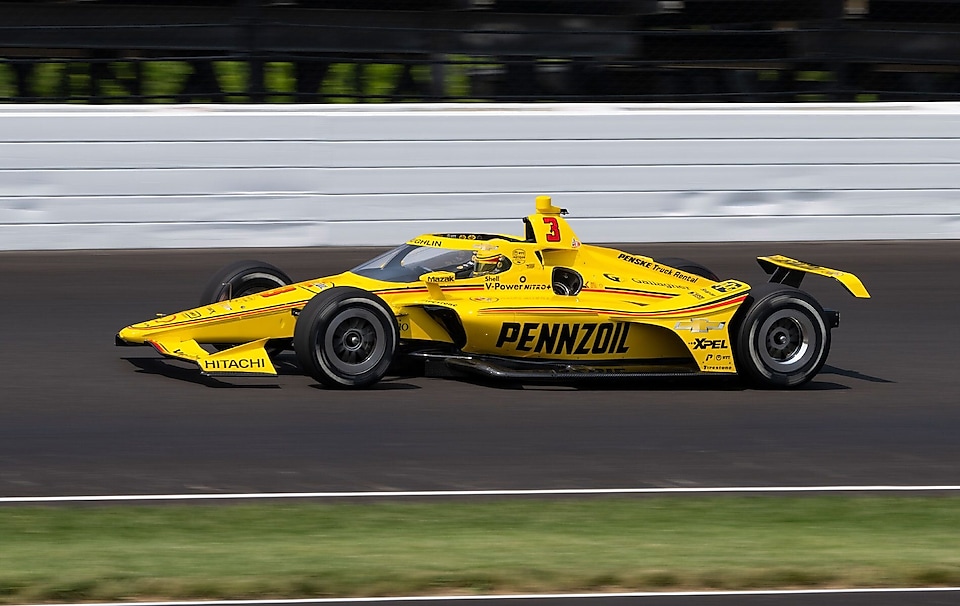 Checking in with Scott McLaughlin, Pilot of the Pennzoil Yellow Submarine
Scott McLaughlin is quickly becoming the face of motorsports and the INDYCAR Series. From his early days growing up in New Zealand, to rising through the ranks in the Supercars Championship, to an eventual move across continents to compete for Team Penske in the United States – Scott has earned every bit of success he has achieved.
Before joining the INDYCAR Series in 2020, where he was shortly after recognized by both the Indianapolis 500 and the NTT INDYCAR Series as the 2021 Rookie of the Year, Scott competed in the Australian Supercars Championship series. Over the course of his nine-year career, Scott recorded an impressive 56 race wins, 106 podium finishes, and 76 poles. He also claimed three consecutive series titles from 2018 through 2020, including a monumental first-career win at the Bathurst 1000 race, marking Team Penske's first-ever victory in the Supercars series.
In addition to all these accolades under his belt, Scott is also the pilot of the iconic Pennzoil Yellow Submarine car. The brand caught up with Scott McLaughlin for the inside scoop on how he got his start in motorsports, what pushes him out on the track every day, and what Long May We Drive means to him.
PENNZOIL: Growing up in New Zealand, how were you initially introduced to motorsports?
MCLAUGHLIN: When I was young, I went to a car show with my parents, who had both been racing since before I was born. There was a go-kart stand there, so we bought one, and the rest is history!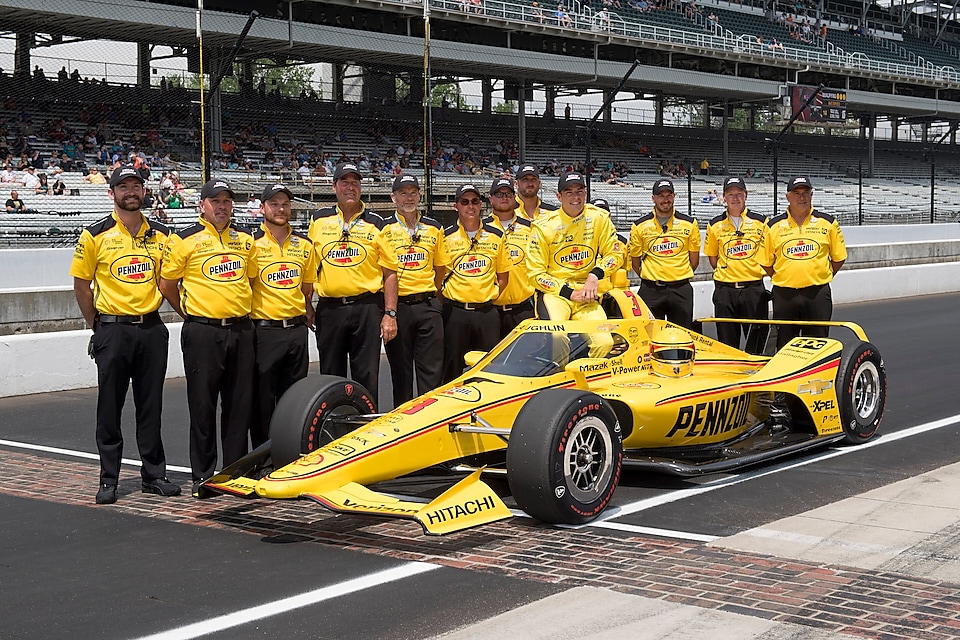 SCOTT MCLAUGHLIN AND TEAM PENSKE WITH THE YELLOW SUBMARINE AT INDIANA MOTOR SPEEDWAY
PENNZOIL: When did you first know you wanted to pursue a career in racing?
MCLAUGHLIN: Racing started as a hobby, and I didn't think I could be, or wanted to be, a professional driver until I was about 12 years old. That's when things started to get real, and I realized that I was decent at racing.
PENNZOIL: What's the biggest difference between competing in the Supercars Championship series, and the NTT INDYCAR series?
MCLAUGHLIN: Every car that we have is a spec car in the INDYCAR Series, but in the Supercars Championship, you can race your own chassis built by your own team. In the INDYCAR series, everyone has the same chassis, and the only thing that's different is our engines; you can either be a Chevy or a Honda, and the shock/damper system is different from team to team. Otherwise, the competitiveness and number of races between both series are very similar.
PENNZOIL: Has your driving style changed since competing in the United States?
MCLAUGHLIN: My driving style changed because it had to. Now, I drive a lightweight car that's an open wheeler, it's very fast and has high aerodynamics. Before, I was racing more of a NASCAR/Supercar-type spec car, which was a very heavy car with small tires and a big engine.
PENNZOIL: Outside of motorsports, what was your biggest culture shock moment in the United States?
MCLAUGHLIN: My biggest culture shock was that not many people can understand what I say because of my accent! I've had to slow my talking down and recognize that I am from a different country, so it may take people longer to understand what I have to say.
PENNZOIL: How do you keep yourself motivated before a race?
MCLAUGHLIN: Winning is everything to us. You're only as good as your last race, so you need a win for every race you can. I always keep that in mind before I hit the track.
PENNZOIL: You were named the Indianapolis 500 Rookie of the Year and the NTT INDYCAR SERIES Rookie of the Year within the same year. What do those accomplishments mean to you?
MCLAUGHLIN: It was a massive accomplishment and a goal that we wanted to achieve as a team. Those wins were exactly what we needed to springboard into a successful 2022 season. While they're cool accomplishments to have, I was really proud because we checked off some goals as a team.
PENNZOIL: You drive the iconic No. 3 Pennzoil Yellow Submarine car. What does it mean to you to represent Pennzoil by driving that car?
MCLAUGHLIN: It's really special because it's a historic racecar driven by many different people, especially one of my mentors and heroes, Rick Mears. If I could take the Yellow Submarine to victory lane at the Indy 500, it would be one of the greatest achievements of my career.
PENNZOIL: What was the inspiration behind 'Bus Bros,' your YouTube show with your teammate Josef Newgarden?
MCLAUGHLIN: It was because Josef and I talked a lot of shop off the track and wanted to invite everyone in. It's been way more popular than we thought it would ever be, but we have a lot of our sponsors, partners, and fans to thank for that.
PENNZOIL: You're also a wannabe pro golfer, according to your Twitter bio. If you could hit with any pro golfer, who would it be?
MCLAUGHLIN: It would be Tiger Woods. He's a legend of the game and the greatest athlete of all time. I would love to play 8 holes, and if I could add a bonus to that, I'd love to play at Augusta National Golf Club with him.
PENNZOIL: The latest Pennzoil campaign, Long May We Drive, is about celebrating the spirit of car culture and the love of driving. What does Long May We Drive mean to you personally?
MCLAUGHLIN: Outside of racing, I am a huge car enthusiast. I enjoy a long drive with my family, whether we're going from point A to point B or driving to a holiday destination. Being able to promote a campaign that is about the love of driving is amazing because driving means different things to different people. Long May We Drive can be celebrated by so many people across the world, and it's something I'm proud to be a part of.
PENNZOIL: Do you have any advice for aspiring drivers?
MCLAUGHLIN: The one thing about motorsports is that it never comes to you naturally. In motorsports, you have to work for it. You may not be as good as you will be in 10 to 20 years, and you'll need a lot of backing and partners and people that will help you on and off the track to move up the ranks. At times it's tough, but it does teach you a lot about life, and it can also make you a better human being. Hard work is important.
Watch Scott McLaughlin as he competes in the 2023 INDYCAR Series and follow along for the latest updates on his Twitter and Instagram!