An Interview With Head Hoonigan in Charge Ken Block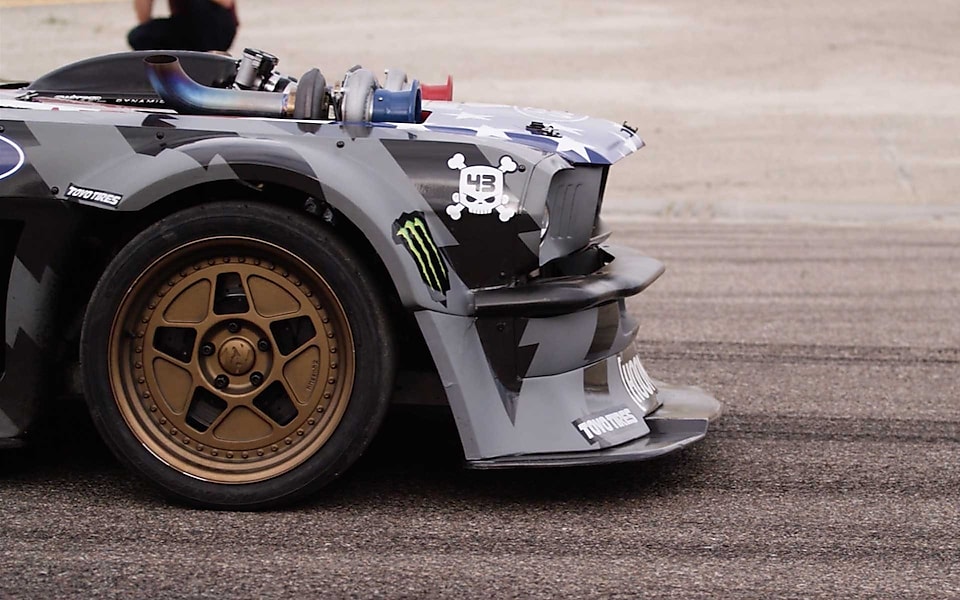 With 14,000 ft of elevation and aggressive inclines, Pike's Peak shows no mercy to cars that don't come prepared to perform. To conquer the notorious course in his upcoming video Climbkhana, Ken Block upped the power of his Ford Mustang Hoonicorn RTR into another stratosphere with the addition of two turbos pushing out over 1,400 horsepower. Unfortunately, without the right oil under the hood he couldn't fully unleash the incredible power on the mountain. Instead, he had to halt production.
Now, he's made the switch to Pennzoil. While we working together with a vengeance to conquer Pike's Peak in Climbkhana, we got to talk shop with the man himself.
You've taken performance to heights and locations few would even consider (i.e. jumping a rally car 171 ft. in the air, donuts around Lamborghinis, etc.). How does Ken Block define what is possible and execute it?
KB: I feel that anything—that's within the laws of physics obviously—is possible if approached with the right mindset and preparation. In everything I do with a car, it's always about planning it out in advance, then executing it. Nothing's impossible, you just need to get creative at times to achieve the end result you're looking for. But, one important thing to call out here: everything I do is based on the skills and techniques I have from stage rally racing. I am not a stunt driver - the things I do relate to the things that come from my skills of racing a rally car.
For those who haven't seen you behind-the-wheel, describe your driving style in three words.
KB: Flat out creative.
What steps do you take to prepare your engines to withstand the rigors of your most demanding performances?
KB: I make sure that my team has done extensive dyno testing which we then back up with extensive endurance testing in-car before we get to the race circuit. Part of that is making sure we're running the right fuels and oils to extract maximum performance from our setups.
What are the most difficult aspects of maintaining your engine's performance through one of your otherworldly driving routines?
KB: What I do isn't exactly "nice" on cars, so endurance is always the number one thing we're looking for. At the end of every day, we do full fluid flushes on the racecars to ensure that they're fresh and ready for another day at the track.
Describe the most difficult maneuver you've pulled off and the steps you took to master it.
KB: I would probably say the jump drift in Gymkhana FIVE was the most difficult up until we actually did it. In actual execution once you overcome the intensity of the situation it wasn't that bad, but it took a lot of discussion and eyeballing the setup to really figure out how I wanted to approach the lip of the takeoff on that street and what angle and speed I'd want to approach it with.
How do you envision your partnership with Pennzoil upping the Hoonicorn's performance when you take on Pike's Peak?
KB: With Pennzoil in the Hoonicorn I'm looking to solve the issues we had previously with our motor setup when we had oil blowing out and up onto my windscreen at higher altitudes, it's one of the reason I chose to make the switch to Pennzoil actually.
With the rigorous conditions of each race, how does Pennzoil improve your confidence in your rally car's performance capabilities?
KB: Well, it helps knowing that I'm running the best product in my engine on race day, it's a bit of a confidence boost when you know that you're not going to have any issues in that department!
Which is more demanding on an engine and why: your exhilarating performance driving or racing in the FIA World RallyCross Championship?
KB: Rallycross is definitely harder, the engine is at maximum output for 6 laps, flat out and while you're having airflow blocked by cars ahead of you while being bumped around by cars on your sides. It's intense and you're constantly pushing every part of the car to the absolute limit, especially the engine.
As "Head Hoonigan in Charge," how big of an emphasis do you place on vetting the right gear and technology to utilize to ensure you and your team have everything you need to push the limits of performance?
KB: It's extremely important that my team vets any and all aspects of the performance of my vehicles. We're out here looking to be the best at everything we do and that means partnering with, and using, the best products possible.
SEE MORE NEXT LEVEL PERFORMANCE FROM PENNZOIL
For our partners Don Schumacher Racing, Team Penske, Bryce Menzies and Rhys Millen, 2016 was a year of dominance. 
We caught up with Bryce and some off the Menzies Motorsports crew at their Las Vegas headquarters.